Basement Kitchenette Mini-Reveal
Steph2000, this is for you!
When we built our house last year we set aside an 11.5-foot long stretch of wall in the basement for a kitchenette. My brother brings his family from overseas once every couple years and they stay about a month. Because they have strict religious dietary restrictions, it is always best for them to have their own kitchen space (for example, none of the dishes, cookware, or utensils they use should ever be exposed to pork). When he isn't visiting I use the freezer for overflow (and very occasionally the refrigerator) and the oven a few times a year (maybe baked potatoes in the summer or a turkey at Thanksgiving).
We had electrical and plumbing added by our builder, but we planned to install a kitchen later. Much later. Until my brother called in October and told us he planned to visit in a month. I wondered if I could put in a kitchen in a month and quickly decided I could.
I may have chosen Ikea cabinets anyway to keep costs down, but now I was definitely going with Ikea because I didn't have time for anything else. And it was nice that I could fit the whole kitchen in the back of my minivan. I found out my brother was coming on Sunday, planned the kitchen Monday-Wednesday, purchased the kitchen Thursday, installed the cabinets Friday-Saturday, and had the countertops measured for granite on the following Monday. Everything but the backsplash installation was done by the time my brother arrived, and I finally got around to that early this week.
Ikea was having one of their "10% off if you spend $3500" sales, so I got everything from them that I could to get the discount - cabinets, granite, sink, garbage disposal, and accessories. They usually have a 25 sq. ft. minimum for countertop installations but they did mine anyway even though it was half that. The installers did a nice job, too. I already had the range and refrigerator from a previous house or I would have considered stainless.
Oh, and I know putting the range in a corner is not optimal, but I did it anyway because that was the layout I liked best. It does meet our state building code, which says only that the range must be installed according to the manufacturer's specifications. The manufacturer says this is OK. My brother uses the oven quite a bit, but almost never uses the stove. Maybe they make rice now and then. If someone were using the stove often, I would beg them to only use the burners on the left.
You can't beat Ikea for ease of installation. We are not big DIY-ers and the hardest part was probably the light rail and top trim. I agonized over drilling holes for the knobs, too, but they came out OK.
So here it is. I'll give as many details as I can remember, but if you have questions feel free to ask.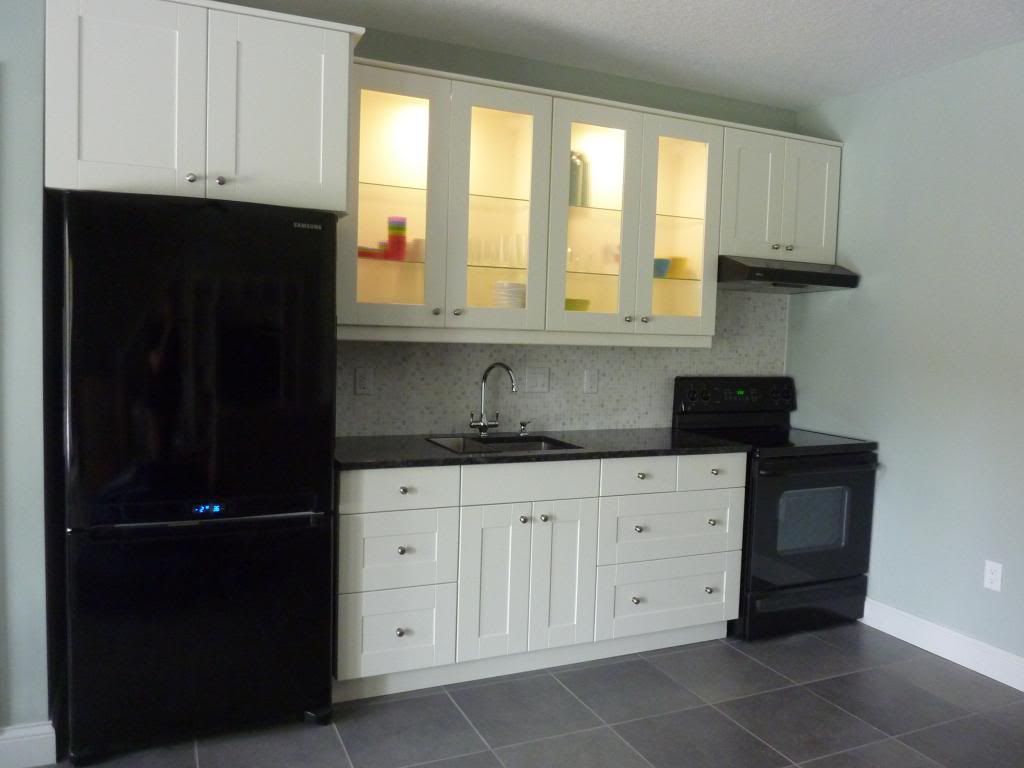 The basement is a walkout, and the picture above was taken with only natural light. The puck lights inside the cabinets were obviously on, and I have them on a motion sensor switch so they come on when you enter the basement. It's a nice night light for my son (who has a bedroom down there) and my husband (who has an office down there). The light is not really that yellow, that's the photography.
The picture below shows the texture of the glass in the cabinets. It isn't quite clear, which I like. It is actually more opaque in real life than in this picture. I'm sure I'll put more stuff in these cabinets at some point.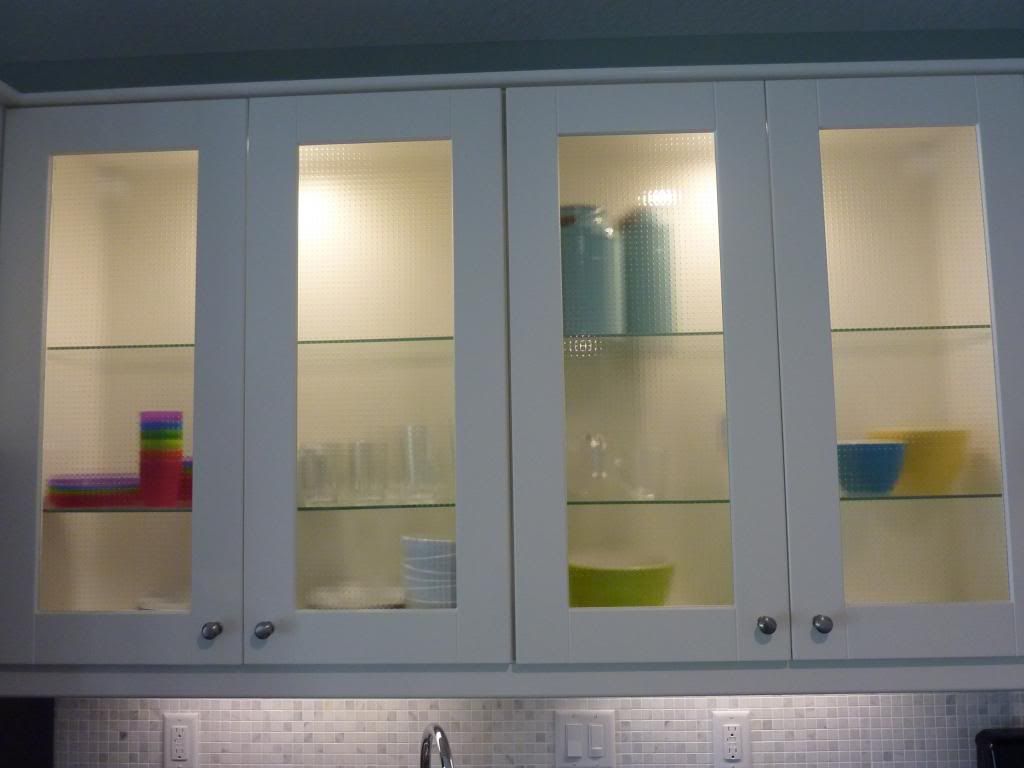 And this shows a closer view of the granite, backsplash, and Ikea sink:
Here are the details:
Ikea Adel white cabinets (they are kind of an off-white)
Ikea knobs (I think they are called Fintorp)
Steel Grey granite
AKDO 3/4-inch x 3/4-inch Carrara Bella honed marble backsplash
Ikea Bredskar 20" undermount sink with collander
Daltile City View Seaside Boardwalk 18"x18" floor tile
Tri-flow faucet from local water filtration company
Zephyr Breeze II Range Hood
Samsung RB195ACBP Refrigerator
GE electric range
LED undercabinet lighting is from American Fluorescent AMF-LUL24WH
LED puck lighting is from WAC Lighting HR-LED 85-WT
SW Comfort Gray paint
This post was edited by mpagmom on Fri, Apr 19, 13 at 16:32