Toolgranny-thank you! Pic Veggie Jar Quilt
magothyrivergirl
July 8, 2011
In March I asked a question about background fabric for making a Veggie Jar Quilt. As usual, I got immediate responses & suggestions.
Toolgranny then emailed me to ask if I wanted all her veggies leftover from when she made her quilt. Of course, I said yes!
I bought the tomatoes and yellow corn & had the peppers. The rest of the veggies were from Toolgranny! I did buy the background - dark green Kona (as she suggested) and the brown for the wood look - that was hard to find something right, and I found this wonderful seed packet panel that I made for the back - well, that was like making another quilt. (It looks crooked - it is straight - we were getting hit with a sudden storm!)
I am giving this quilt to my DH Aunt & Uncle. He grew up on a real working farm, where his Mother traded crops for fabric at the general store to make clothes for the kids.
He still has a huge garden and beautiful yard. In her healthier days, his Aunt canned huge amts of food.
They will be so surprised when I give them this quilt next week.
I quilted it on my short arm Pfaff on a frame - all free hand. I am happy with the results.
Thank you Toolgranny! I hope I made you proud!
Thanks for looking.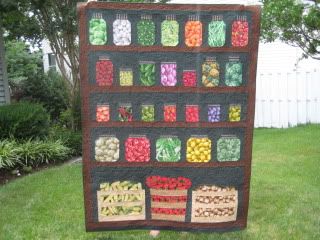 The back using the panel of seed packets:
A pic of the quilting: