Design this kitchen- starting planning process over
I have asked for help with a design layout before, but it was off of plans that I got from Home Depot. I want to start again fresh, with a somewhat blank slate since I want to have a more cohesive kitchen design and I know this group can give me better ideas.
The house is a 1970's ranch, but with some nice features like cathedral ceilings in the living/dining room and a floor to ceiling stone fireplace in the living room. Outside is cement board vertical wood look siding.
We are a family of 4 that cooks most of our meals, but not gourmet by any means. We are vegetarian. I love to bake, but try not to very often since I am trying to lose weight. We have lots of gadgets that we use often- microwave is a must, use breadmaker to make most of our bread, have Cuisinart food processor, KA mixer, steamer, waffle maker, and blender are all regularly used. Most are currently on a cart at the end of a counter run. I am ok with getting them in and out, although breadmaker would be nice to have out somewhere.
Priority for me is function over form. I would love to have a place for everything, which helps me to put things away. Kitchen is also laundry area, bifold doors currently close off washer/dryer and pantry area. The dog is fed in the dining room, but the food is kept in the kitchen.
Budget is low to mid? Maybe around $15,000. Haven't got this nailed down yet. We will get new appliances, but not high end ones. So standard 30" range, etc. Wood floor will stay. Not looking to make structural changes or change around where appliances are- but could be convinced if it really improves function and is not a budget buster. We are on a slab so I think that would be cost prohibitive. I would like to move the dishwasher though if possible, it is in a horrible place now right across from the fridge- maybe to the other side of the sink?
Other thoughts- I am really perplexed about how to use the side of the kitchen with the bay window and laundry area. We had a round table there at one time and I am not interested in going back to an eat in kitchen- then the dining room table becomes a horizontal clutter catcher. Plus eating out of the mess of the kitchen is more relaxing. Right now I have some chairs, and a cabinet that is basically our command center, but it doesn't feel like an integrated kitchen. Feel I am looking for is light and bright, warm and homey, relaxing and fun. Basically a family home kitchen, not a showroom.
Here is my kitchen dimensions, mostly to scale:

Here is the view down the galley towards the dining room: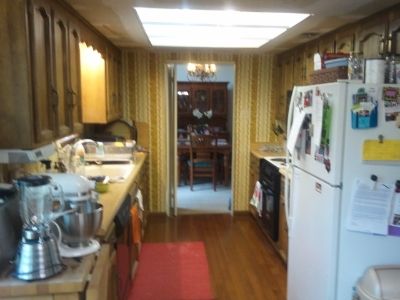 Here is the view to the opposite end of the room: