I need help.
jennifer_in_va
June 6, 2012
I'm ready to quilt Melanie's baby quilt. The backing is pieced and pressed, the top pressed and the batting cut and 'relaxing'. ;)
And now I'm a bit stumped. Here it is...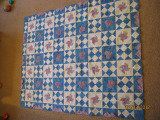 I thinking I want to do 1-2 echoes around the hearts (blue background), and was considering stippling lightly around the pinwheels (light background). But I'm rather stumped on what to do in the hourglass blocks.
I don't think stippling would look right. One possibility I have is to do a heart pattern, maybe with an echo (to simulate the heart blocks), but other than that I'm not sure.
I'm open to some suggestions. I am not good at 'freehand' straight lines, so a 1/4" from the seams wouldn't be very feasible.