LOTTO - June 2013
This month is another traditional block, the State of Illinois.
Lets use dark blues, see samples. This makes a lovely blue and white quilt with secondary patterns. Use any dark blues. I used indigos and batiks but any darker blue will work.
This lotto is open to all and new quilters are encouraged to participate. You will learn much and have fun doing it. Participate in as many or as few lottos as you want, but even if you don't like the current month's block think about doing at least one. The winner will appreciate your efforts!
A few specifics:
- each month there will be a designated block or theme, you can send 1, 2 or 3 blocks
-12â blocks must measure 12.5â x 12.5â with no more than 1/4â variation. If we call out a different size, it will always show on the pattern but the measurements must stay true so that the winner will be able to assemble the quilt easily.
-With your blocks include name, mailing address, forum name and $1 in the pkg to cover postage for mailing the blocks to the winner.
- if you like, either attach your name to the back of each block or write your name in the seam allowance with a fabric pen so the winner knows who made the block (this is not a requirement, just makes it more interesting).
- all blocks received by the last day of the month will be included in the lotto drawing. If your block is still in transit, please let us know so you can be included.
- you will have 1 chance to win per block.
Blocks are to be mailed to Valarie. She will arrange the collection and dispersal to the winner. If you need her mailing address, you may request it by sending her an e-mail at littlehelen at comcast dot net.
Any comments and suggestions are welcome. Those who complain get this job next year.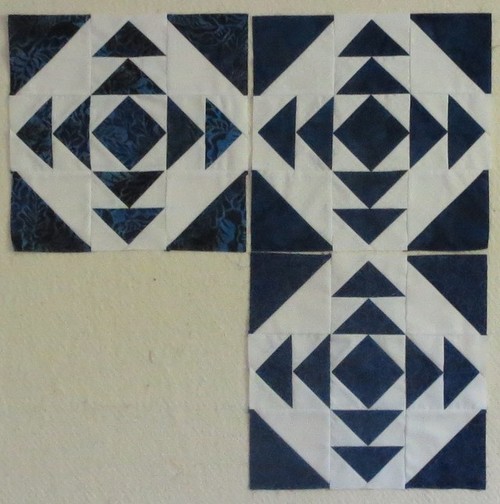 Here is a link that might be useful: State of Illinois block pattern