New kitchen photos, custom cherry cabs
Here is a picture of my new kitchen with the details below.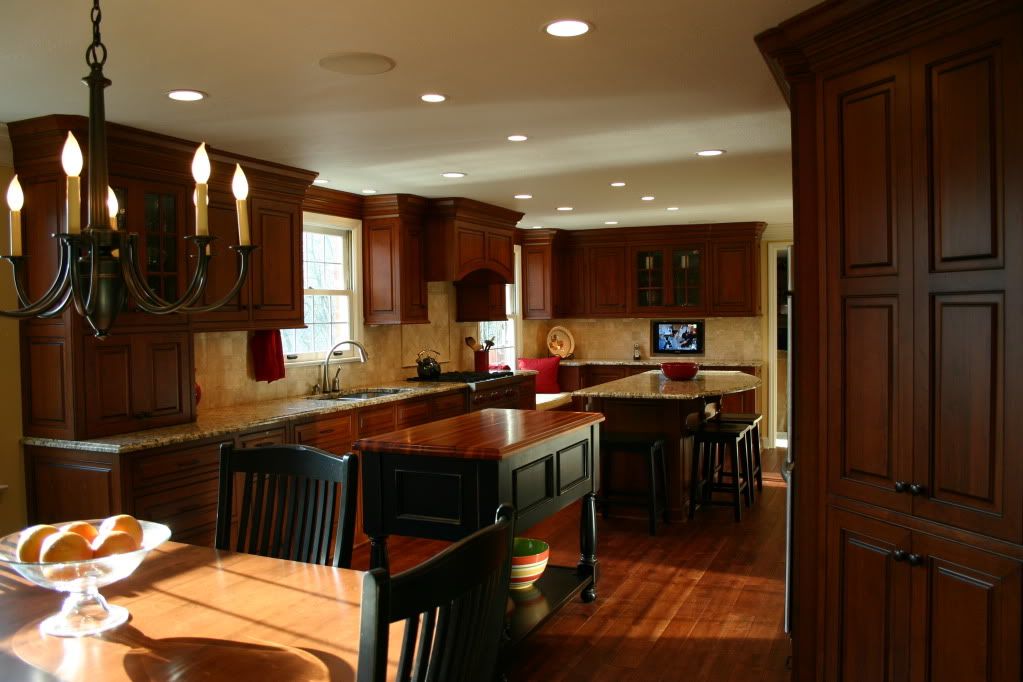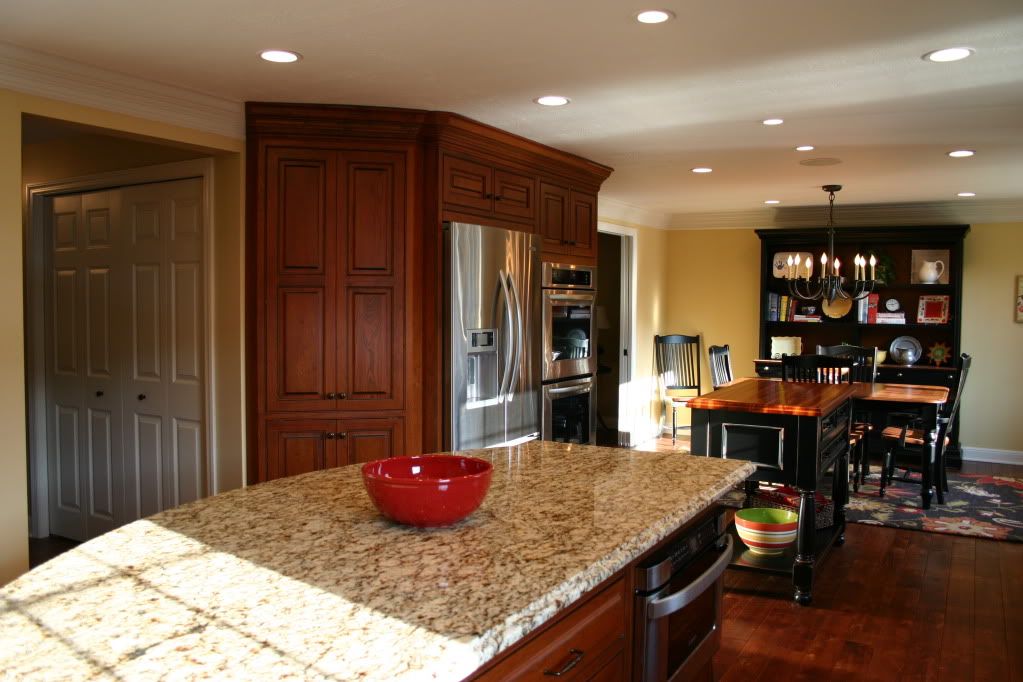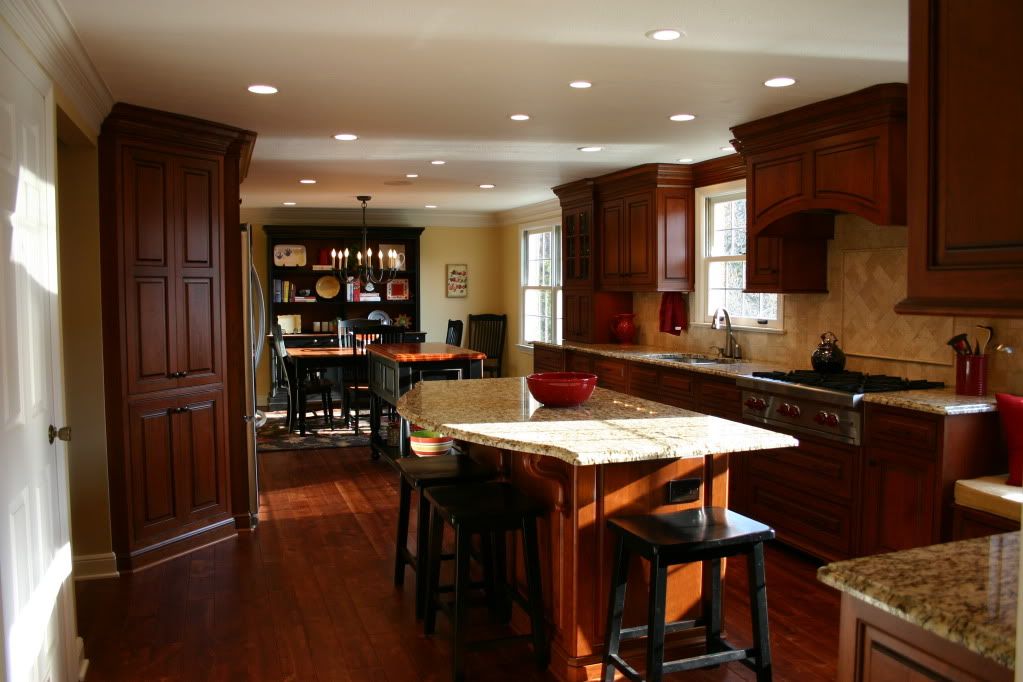 We took down the wall to our dining room, bought a new table that extends as large as our old dining room table so we can use it for holidays but now we use it for everyday dinners, and replaced our kitchen table with an island with 4 barstools that gets used every day for breakfast, lunch, homework, hanging out, etc.
Custom, inset cherry cabinets with a cinnamon stain and coffee glaze, full extension glides with soft close drawers and hinges (Blume) - local cabinet maker Mike Santa
Knobs and drawer pulls by Top knobs
Seeded glass door inserts from Emerald Glass in Pittsburgh
Granite - St. Cecelia from Blum's
Floor - Distressed Maple in Butterscotch color from Ark
Backsplash - 4x4 durango limestone with driftwood grout, ½" pencil molding and basket weave pattern above range top.
Under cabinet outlet strips (maybe it's plugmould) and xenon lights - to allow for an uninterrupted backsplash
Appliances -
Wolf 36"gas range top
Independent brand range hood
Sharp microwave drawer
Miele Dishwasher
Kitchen Aid standard depth refrigerator KFIS27 (recessed to look cabinet depth)
Kitchen Aid double convection oven
Kitchen Aid garbage disposal and air switch
Franke Sink
Delta touch faucet
Custom made, distressed, wood-topped island - made by local cabinet maker, Jim Haugh, Haugh Woodworking
Tigerwood island top from Grothouse Lumber
Niche with computer monitor/tv screen, pull-out keyboard tray with wireless keyboard & mouse, drawer for laptop and charging station
Window seat with cushion
Table, chairs and hutch - Canadel
Barstools - sawhorse style, much larger seat area than saddle seat, only came in brown stain, repainted by Jim Haugh who made the island
Chandelier - Restoration Hardware
Light switches - maestro
Glass pocket doors to separate living room from kitchen
Appliance garage with doors that recess
Window treatment - would like to put something up on the double window by the table
Area rug - from Target
Favorite things about the kitchen - computer screen recessed into wall to save space on 18" deep counter, love to use the pullout drawer with wireless keyboard & mouse for the computer - it uses the laptop as a tower (laptop can be unplugged and taken elsewhere,) I always pull up a comfy stool from the island, computer screen also can toggle to a tv screen to show what's on the tv in the adjoining family room, love my vertical storage slots built in above my double ovens, love how my silverware tray from the dishwasher and silverware drawer pull out to within 3 inches of each other - I easily can transfer the silverware from dw to drawer, love to cook on my gas range top (used to have smooth-top electric), love our standard depth refrigerator that looks like a cabinet depth due to recessing it just a few inches into the wall and building out adjoining cabinets to give the look of a cabinet depth, love my drawer storage for pots and pans under my range top (instead of getting a range with a large oven below,) love having the drawer micro in the island instead of in the wall across the room where my double oven is located, I love the natural light from the windows.
Here is a link that might be useful: Additional kitchen photos