My Memorial Day project
jennifer_in_va
June 1, 2012
I started working on this last weekend and finished it yesterday, just in time to show it off at a dinner with the girls...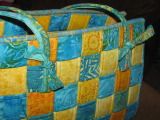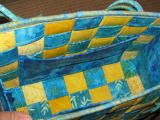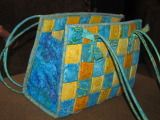 My workhorse had problems going through SO many layers! Usually one layer of stiff stuff and fabrics for a tote isn't too bad, but in cases on this one, there were 2 layers of stiff stuff, 10 layers of fabric and a layer of fleece. My machine didn't like that. So I moved over to the Singer 15-91 and it sewed like butter (just didn't have a 1/4" foot!)
This was a pattern I'd always seen in the catalogs and now I can say I've finally done one! I may never do another, but most of it was fun.