Pic-Carolina Lily Quilt
magothyrivergirl
June 15, 2011
I want to share the quilt I just completed. I started it in early 2009 (I think) for my MIL. I had just started quilting; it was one of the first quilts I began, and following directions (on my own) from the book "Big-Block Quilts" by Nancy Johnson-Srebro. I immediately got all the hard parts completed, up to adding the borders - I did not know yet how to do borders or bindings - and other projects got in the way. When I pulled it out recently, I was expecting to see lots of flaws and "Oh - no's". I was so happy to see it was well made and looking good - in my opinion. It is now finished - it is going to hang in a local store before I give it to her.
I asked questions here - learned alot from all you wonderful quilters, who I look to for advice, tips, and guidance. Thank you!
Sorry - to brag a little - no one else "gets-it". You all deserve a bunch of credit (or blame) for my enthusiasm & accomplishments quilting!!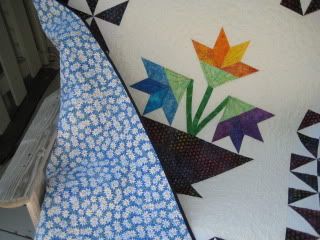 This is my completely machine stitched binding sewn to the front