Will this picture work in this room? - and any other suggestions
I've got another knot from not knowing what to do. We've juggled living arrangements the last few years and this is the current room in which we spend most of our time. I have no clue what "style" it is, and I'm probably the only person that has all recliners (sofa, rocker, and wallhugger) but it works. I like cozy and earth tones but I'm also not afraid to venture into more color. I'm open but clueless. I already have this large picture and wonder if it will work in the room.
The picture is 47" wide x 29" tall. The sofa from end to end is 94" but the top of the cushions measure to 83". If it does work, how high should it go? I see that there are other colors in the picture, some yellows, green, and even some pink roses. I want to get accent pillows too.
I could also use help with ideas for the rest of the room. I've had the brass lampshades forever, do they need a different shape shade or are they just wrong in this room? I don't plan to keep the maroon shade although the lamp is ok. The tv wall needs something, I do plan some photos above the dog pen (it stays for now and so does she) and if I keep the green vase, I need something in it.
The 3 drawer end tables and a coffee table were a CL find but there isn't room to recline and have the coffee table. I am not in love with the wooden knobs but the top of the tables are beautiful. The blue floral faux window shade was from the last apartment but doesn't have to stay.
I need to keep the sofa and tv/dresser there for now as I have to be able to get Nathan/wheelchair thru that area when he visits. I just don't feel settled until I get pictures and clocks on the walls. Please help with ideas, I can post more pics if needed but lets start here. Don't worry about hurting my feelings either. Give it to me straight.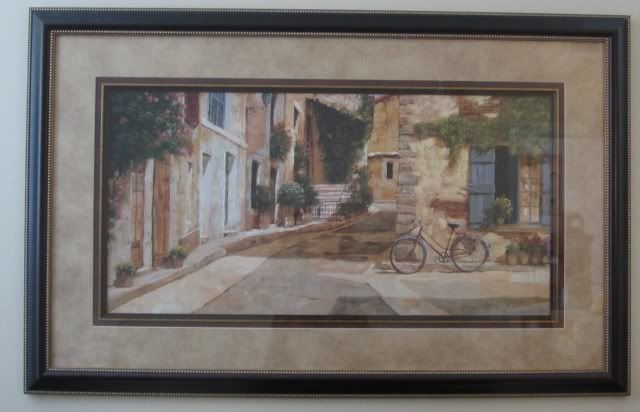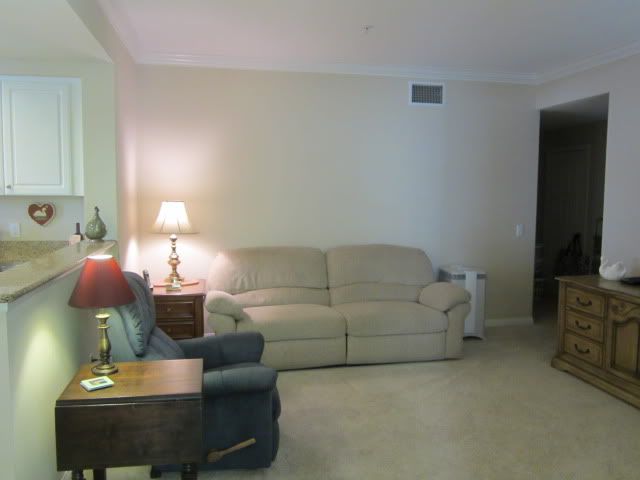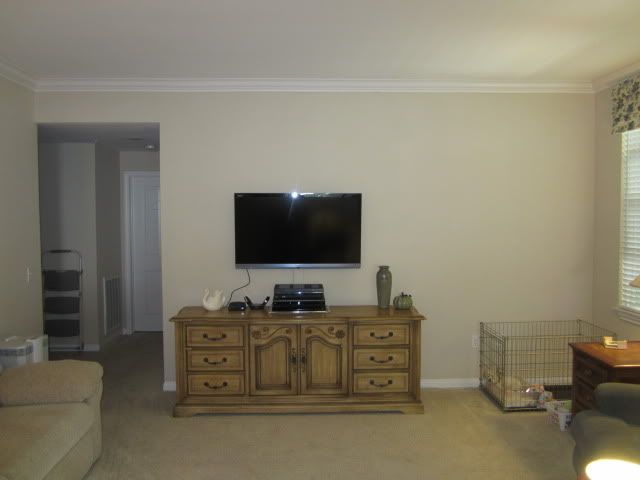 Sorry this image is no longer available.