Painters remorse - wwyd
Hi all,
I finished painting the main area of our walkout basement BM beach glass. During the day we like the color, although it is a bit darker than expected. At night it almost looks like a dreary grey.
I painted the basement bedroom BM healing aloe (the top color on the same strip as beach glass). I love it! Now I'm considering repainting the main area in healing aloe.
We don't have the drop ceiling, cabinets or flooring in yet, so now is the time. The ceiling will be light, and the cabinet color is heavy cream. I was hoping to get a darker carpet because of young kids and pets, but I'm afraid the beach glass will be too dark with dark floors (especially during our dark Michigan winters).
What would you do - leave the beach glass color or go lighter?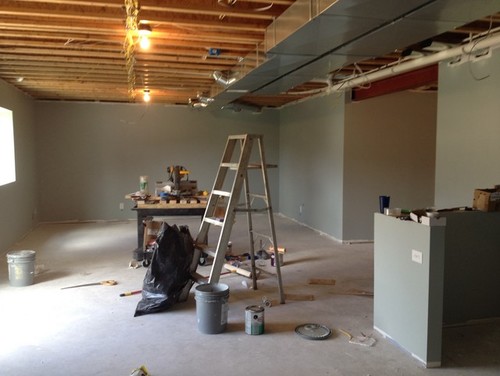 This post was edited by amj0517 on Mon, May 5, 14 at 16:03