Pix of Quilt from Anonymously donated Blocks
Hi All,
I pieced this top last year from Blocks donated anonymously to either my Guild or our LQS. I picked them up on a Charity Night & worked to piece it all. The blocks were large, maybe 15" square.
So here's the completed top.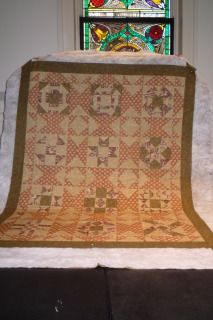 (shot at a church in NYC where my quilt guild, Empire Quilters meet)
some closer up
I recently got confirmation that it was in fact completed, was longarmed by another member of our Guild (thank you Janice Ewing) who provided me with this completed pic.
I was so happy to see it completed.
It's backed w/ the same khaki as the outer border & I learned a tremendous amount doing it. The Maker did some really precise work making these blocks & they went together beautifully.
Once I took the blocks & pieced them, I felt responsible for getting this done & was so I gratified to see it happen. Apparently I missed the meeting where it shown at & returned to the Guild. Was my first experience in that kind of joint work, pretty satisfying!