Wall is Out, LIght is In... Redoing a '49 Cape's Kitchen (thx Bue
function_first
April 12, 2010
Last September I posted a rendering of our kitchen AFTER cabinets had been ordered and budget was pretty well set (better late than never). Buehl offered several suggestions for improvement and helped us find some ways that we could improve on the plan even that late in the game - thanks to Buehl's helpful sketches, we were able to make some changes that helped me get a beam moved to open it up a bit more, and a prep sink that I didn't even know I needed (but use constantly!), and an island that's exactly the right size to allow maximum seating yet without "cramping" the style of any of the workers in the kitchen. I am forever grateful, Buehl, thank you.
Background: This is a 1200 sq. ft home, with a an 8x16 kitchen which was an 8x8 working area with an eat-in 8x8 table space. We spent 10 years "dancing" with each other while prepping or cleaning because, believe me, I'm not the type to insist on doing all the cooking or clean up myself (my math figures that 4 eaters = 4 helpers, hehe)
While the footprint remained the same, the remodel took out a load-bearing wall that also had hvac and electrical things in it that had to be re-routed. It involved setting a steel i-beam into the ceiling, this wall stuff ate nearly half of budget but because our primary goal was to open up a cramped space, we felt it was worth it. We kept appliances that we had already replaced (7 yr. old fridge, and 2 year old stove and dishwasher), this helped keep the rest of the budget in line. Sticking with stock and semi-custom cabinets helped, too. We worked with a very flexible contractor (Chuck Hall at Cornerstone Construction in Framingham, MA) that let us do some of the work ourselves (tiling, painting, etc), as well as all of the shopping for fixtures, this saved us time and money, and also allowed us to work in so many of the great ideas shared on this site (air switch for GD, Ticor sink, etc).
Here is a before pic: the kitchen was evidently updated sometime in the 70's.
Here are some after's and link to the album: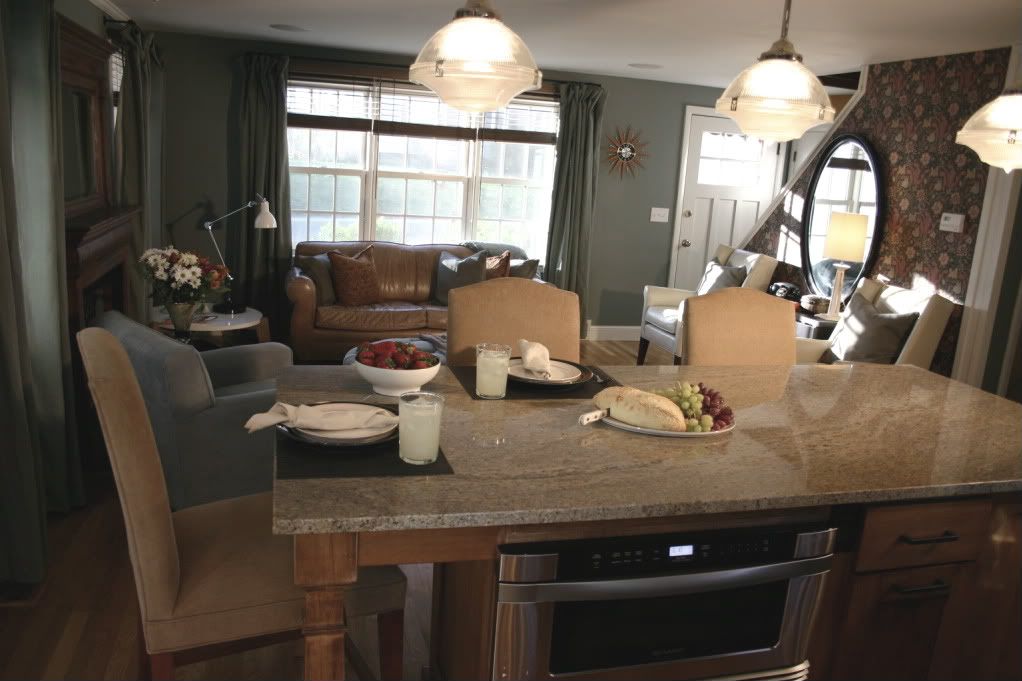 Link to album:
http://s283.photobucket.com/albums/kk312/KrisMA_photos/Kitchen%20Remodel%20of%20a%201949%20Cape/
Details:
Cabinets: Maple (java stain) Bertch Marketplace (stock) and some Bertch Legacy (semi-custom)
Counters: Giallo Sabbia granite (Brazillian)
Backsplash: Eiffelgres tile
Windows and Slider: Marvin Integrity (fiberglass exterior, wood interior)
Lighting: Restoration Hardware Optic pendants
Appliances: existing
Sink (main): Kraus 29"
Sink (prep): Ticor
Faucet (main): KWC Disko pre-rinse
Faucet (prep): Grohe Minta
4-5" recessed can lights
2-fish eye spot lights
Features:
Micro-drawer
Hidden storage above fridge
2 Amps and Airport Express in Pantry drive in-ceiling speakers from laptop
Pull-out trash
Air Switches on counter for garbage disposals
Full Extension, soft-close Drawers
Two-tiered rev-a-shelf pull-out for pots and pans
low-profile Lighting Under Cabinet
Rollout shelves in Pantrys
Soap Dispenser
NeverMT on main sink
I always found it helpful when others shared their costs of renovation, so in the spirit of helpfulness to those still planning, the total cost of our renovation was in the 50K ballpark: of that about 10K was on cabinets, 5K on fixtures, 3K on granite. The other costs I don't have broken down but covered plumbing, hvac, and general construction, including: demo, engineering, wood floors fingered into the old, steel I-beams + posts, 2 new windows, new sliding door, plaster walls, installation of cabinets.
Here's a link to additional pictures:
http://s283.photobucket.com/albums/kk312/KrisMA_photos/Kitchen%20Remodel%20of%20a%201949%20Cape/