Help design baking center : )
laughablemoments
April 25, 2012
Hi all! I'm trying to design our baking center, but I'm stumped on how to set up some of it. Would you like to help? : )
It's 6' wide. The wood butcher block counter will be 34" off the floor. I'd like 18" between the top of the counter and the bottom of the upper cabs. The upper cabs can go up to 89" off the floor (including crown moulding.)
I've included a sketch of the basics of what's going on under the counter. I posted a question about bulk storage last week, but we've decided to just stick with the bins we've got b/c they work so well. (But thanks everyone for your ideas, you got me thinking about other spots to use some different containers!)
The lower area of the baking center needs to include the grain grinder (13.5" tall, 14.5 " wide, 19.5" deep), the grain bins (24" tall x 10.5" wide x 18.25" deep), a spot for cookbooks down low (lots of young cooks in the family), and maybe a spot for pots and pans down low, too.
I'm picturing putting the grain grinder on a roll out tray. The cookbooks could be accessed from the left side, since this set of cabinets is open on each end. I can lose one of the big rolling bins if necessary, b/c once the spelt is used up, I probably won't get it again.
Up top is a mystery to me. I know I want some open shelves for my glass jars that I use all the time. They are 4.5" cubes. I have 6.
Up there will also be baking spices, flour, oil, sugar,honey, cake pans, bread pans, marshmallows + chips (yummy), mixing bowls, you know, all that good stuff. : ) These things are hard for me to keep neat, and should be behind closed doors.
So, do I do a 3' cabinet in the middle with 18" on each of the sides, 2- 3', 3- 2'.....what do you think, GWers?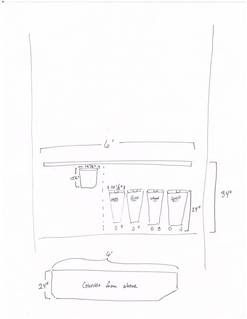 My cute little jars with my cutie pie : )
A couple of inspiration shots. If I used glass, I think it'd be frosted. Or would solid doors be better??
How the space currently looks (help! LOL):

Sorry about the long post and big pictures. I tried to resize in photobucket but they're still huge here.