Layout critique and other questions/fears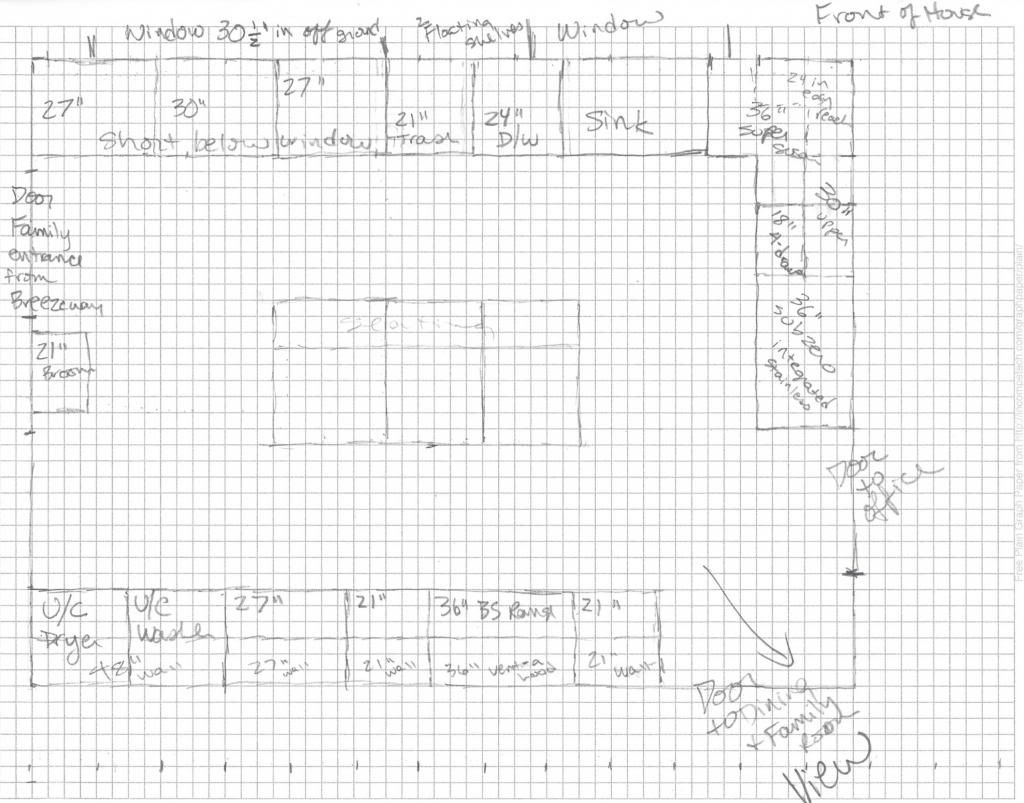 Thanks for looking at my layout. It's pretty much to scale. My main concerns surround the island, but I'm sure y'all will have other great questions and ideas. It's just DH and I and he's the better and more active cook. I'm the sous chef, shopper, and aspiring cook.
I drew in the island 3' x 6. I've had it as long as 7'. In reading here, I'm wondering what a good length would be for traffic and if it's too wide. I've had two KD's put it in that way and it's what I want, but I don't want to regret it. A KA Architect II microwave will go into it. We're debating where. It will fit into a 24" cabinet. I've had it towards the fridge, thinking that the end by the washer will function partially as a pantry. But I really want a top drawer at the fridge end of the island. We also want to put tray storage into the island. Not sure how much/how/where. I've read so much drawer-love, now I wonder if something would be better for cutting boards/cookie sheets trays, etc.
The sink is a little vague, no? The plan is a Koehler Whitehaven apron-front. DH wants 36" I can't fathom a sink that big. He will agree to 33". The cabinets will be Innermost and they say that a 33" sink fits a 33" base, etc. (I've been told it's often the case you need/get a larger one.) We have a single bowl now that's about 25". I love the single bowl. Can't imagine even the 32, let alone 36". Any thoughts appreciated. IIRC, if we got 33" we can get a 6" pull out. If we go 36" we would just use a 3" filler.
We have Heath dishes and serving pieces and I'm excited to have them on the open shelves. Yes, dust catchers and potential junk catchers. Feel free to talk me out of it. :) I look forward to the air-y-ness I think it'll bring. Right now, there's a 33" cabinet there and a peninsula that juts out just below that cuts the kitchen in half.
The windows are new and door soon to be replaced with a single light door (more light, yay!). The house is brick so the top/front, left and part of the bottom are exterior walls and brick (so nothing is moving structurally).
We have a 30" pantry now with no roll outs and I hate the cavernous pit. On the one hand I like the clean run of cabinets and counter on the bottom wall with the range. On the other, I worry about the expanse of it. The 27" upper and lower will, I believe, function as the pantry, along with things in the upper 21's by the range. Thinking of pots and pans in the lower 21's by the range. We have a 30" with rollouts now and love it. My idea was 30" in island to just mimic it. DH thinks the 21's would be better for them. I'm really unsure how to use all that storage on that side of the room and I'm afraid of doing it 'wrong'. Especially reading all of the drawer posts.
The cabinets under the window will have dog and cat food and that's all I have planned. I'm thinking small appliances on Susan. Possibly there...