Placement of Cabinet Hardware?!
I'm excited to be at the "selection of cabinet hardware" stage of our renovation. As some of you know, it's been a project filled with twists and turns. Think we are up to Plan M or N by now : )
Anyway, I've read many questions and answers about pulls vs. knobs, but am looking for guidance about where on the doors/drawer fronts they'd look best on our cabinets.
I like a combination of knobs and handles, unless just one kind is better for a small kitchen? I originally was thinking of knobs on top and handles on bottom, but am reconsidering because I'm thinking that knobs might look lost on the taller upper cabinets. Would handles break them up a bit more than knobs, and if so, do you think they should they go vertically or across the bottom piece of trim?
The biggest question concerns placement of hardware on the beadboard drawer fronts. Should knobs and/or handles go on the upper, smooth part above the beadboard or right in the middle of it? Afraid handles might look crowded on the smaller drawer fronts, but good on others? Would knobs look better on the drawers, and if so, where on the drawer front?
Since it is way heavier than a regular cabinet door, should we use a handle on the 8" pull out pantry (to left of DW) or are knobs "strong" enough?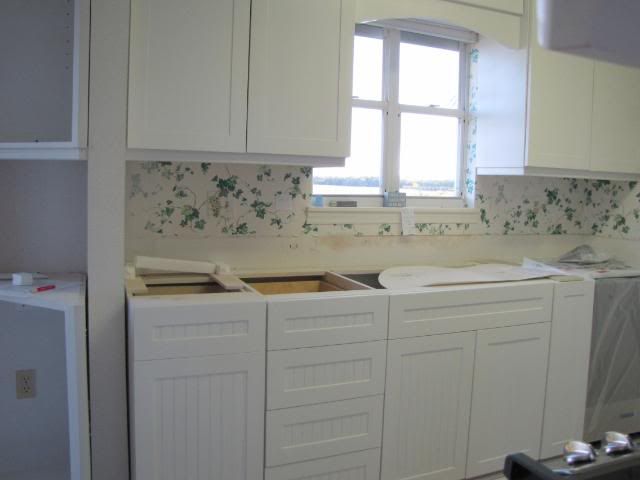 Haven't found handles I like yet, but may use decorative knobs on the glass doors on the corner cabinets that will be in the attached dining area.... For what it is worth, here are some of the decorative knobs we are considering. Afraid it would be too much to have them in kitchen, too, but hope to find handles that would look good with them... Thoughts? (Sorry I couldn't resize these photos even though I tried 3 times!)


I'd use a pair of the fish on the glass doors, but I think they should be facing each other, and they only seem to come "swimming" to the left, which would probably look odd next to each other!?