We may need to Replace a few tiles in Master Shower/Tub
Suzi AKA DesertDance Zone 9b
May 7, 2013
There is more on this issue in the Bathroom forum linked below.
I'm not sure if this is a design issue or a repair issue. All cabinets and drawers have been stripped and will be painted white. Fixtures will be replaced.
As you know, we purchased a huge money pit. Now you see what we face in the master bath. The builder was a contractor, and he must have got a deal on the tile because it's everywhere tile can be put! We are trying to save the tile due to budget concerns. The kitchen and rotting outside decks sucked up most of the money!
There is a crack in the niche (shown in bathroom forum) and some broken faucets which MUST be replaced. The plumber says they are so old, that the new ones might not fit the valves, so we might have to destroy part of the wall (including some tiles) to re-plumb for the new stuff.
We hope not to have to face any tile removal at all, but if we do, would a couple strips of a medium brown replacement tile (I will never be able to replace tile from the 80's) as an accent work? The leaves on the flowers are medium brown.
Sorry for the dark photo. Electricity is off, so taking pictures into light is tough!
Suzi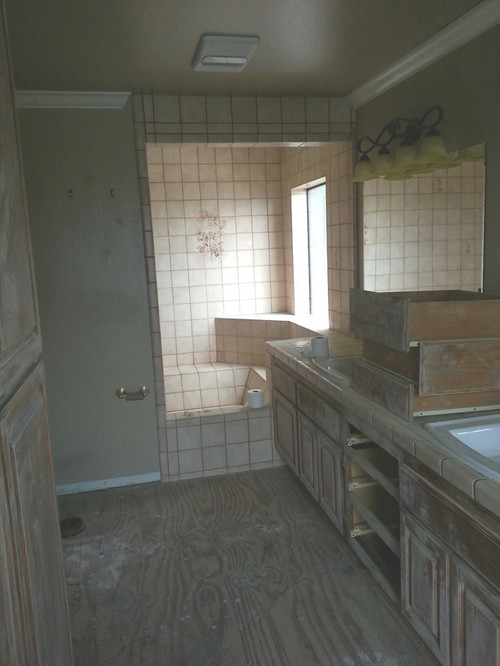 Here is a link that might be useful: Bathroom Forum with more photos