Hi Folks, Look What You Made Me Do
Hello Everybody,
Well I recently saw someone's post on Depression Blocks & I could resist no longer (I'd been resisting this particular design for some time).
Spent some time yesterday cutting some of these blocks out. Gotta go buy some more lighter fat quarters, but I Iike these results so far.
After a few changes
I'm completely smitten by these fabrics I've collected in re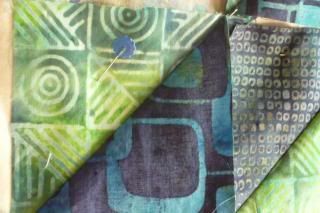 cent years.
Just so pretty & playful.
See what I mean? I get so lost in all the really beautiful fabrics out there.
I'm not supposed to be starting anything new. I have multiple UFOs to work on, the quilts resulting from 2 recent classes to finish, along w/yet another charity quilt to finish.
But I could play w/ my beloved blue / green batiks all day!