More Cane Chairs for Me!!
A few weeks ago I posted some barrel cane chairs I found at a garage sale for $7.50 each. Well this past weekend I found 2 more, but they are a bit different. They were $17.50 each and I snapped them up!!
You can click on images to make it larger.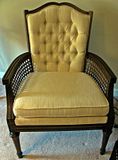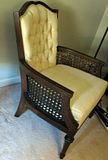 I think I'll keep these and sell the others I bought a couple weeks ago.....after reupholstering them of course! I may keep the tufting or may not. Do you think the tufting makes it look dated??
The plan is to use drop cloths to reupholster them. Wait, before you judge....LOL. It looks like linen! Take a look at this chair reupholstered in a drop cloth from Cobblestone & Vine blog.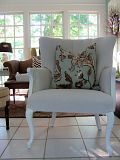 Oh and I am really loving this pillow! Anyone know what this fabric is called??