Florida nest: mcm suite progress
Just wanted to share an evolving vision for one room at my Florida nest, a multiyear work in progress.
This is for the ground level bedroom beyond the garage with its own entrance and bath. It is designated for my brother. He's a New England hermit type; a TV and recliner cover most of his needs. There are two other guest rooms upstairs so this is primarily his space. I can't see him in a bright beachy setting, so was stymied until I came across this $20 GW grouping last month. It was beat up but good quality and lines, and the caning detail looked a bit tropical.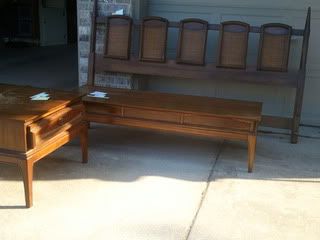 I figured that king headboard could go longways along a twin xl bed, kind of a daybed look. Add a recliner and this pair of $7 GW chairs which I will reupholster. Simplified and without tufting.
I was worried the side table top was beyond repair, but I refinished it and it came out fine. Base still needs touching up.

I have a nice tropical but not trite fabric stashed for curtains, .
Maybe tan or khaki walls, green accents. Layout like this
I think it is a go, but I am open to suggestions. Thoughts? You like?