Quilted projects from last week
jennifer_in_va
May 2, 2012
Here are the ones I completed last week....
First, my "Going Green" quilt. This was a class that a friend took as a technique, and then didn't like and didn't want to finish. She gave me partially completed blocks. I finished the blocks, put them together and then found both Jinny Beyer fabrics in my stash for borders! The backing was in my stash and I pieced batting... Truly a Green project!!
I did squiggly lines along the angled pieces since they were only fused in place, then some free-motion 'somethings' in the center of blocks.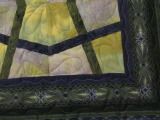 Then this one was a recycled project from estate sale blocks. I showed this after retreat when I cut diamond blocks down into squares in order to make them fit together. I could only ever see it as Christmas... so I did a tessellating Christmas tree for a quilting design.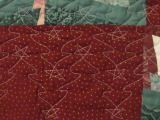 Then this is my Fall quilt that I've been working on since I got my embroidery machine about 3 years ago. This is the scrappy patchwork block that I was looking orange fabric for. The patchwork blocks are 8" and have a maple leaf quilt design. I stippled around the embroidery, and did a feather border design.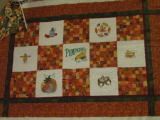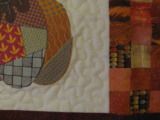 This one isn't quilted yet. I did this during my March quilting day with my guild. It's a pattern designed by my friend. She did free-motion/thread painting as quilting on hers. I'm trying to get up the gumption to feel that free without fear of ruining it! I chose fall colors , done in batiks, since I needed more fall wall hangings.