Latest Charity Efforts - large piece for me
Hello everybody,
Dropping by for a bit. Hoping everybody's been well, especially with all the recent bizarre weather.
Realizing I hadn't posted here much so in updating my Quilt Blog (if interested, pls. see my Member Page for the addy), I thought I'd share a bit here as well.
Here's a top I just finished making, to donate to Charity through my Quilt Guild. I call it Romantic Florals, Old and New.
Here it is on my King-size bed, 2nd biggest top I've made to date, slightly scary.
another angle
corner squares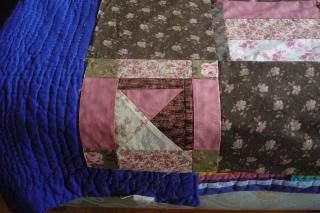 I've asked the Guild to have it long armed & hopefully I'll get a photo update when it's completed.
It's an amazing design challenge to work w/ donated fabrics in other peoples' color palettes. I haven't like pink since I was a little girl, but I rather like it here.