POLL: you pick the island color and thats whats going there
Hello, Hoping this is where I can get some decorating color for my kitchen island. Would have posted in the kitchen forum but no that many in the kitchen forum are also here. So thought this might be a better place to post it.
Heres my kitchen as of now- Goal- paint kitchen cabinets ~ Marscopone White- Benjamin Moore a nice warm creamy white
Add Backsplash, paint out the red walls to something else ( color to be choosen after cabinets are painted and paint the kitchen Island a different color ~a tone of either, Black, Grey, Blue, or Green- Strongly distressed and antiqud on the island.
Which color would you choose for the kitchen Island if Rest of Cabinets are a creamy white and granite black- with peachy,red,beige tones.
Going for a more French Country ~ English Country, Shabby Chic LOOK.. LOL.. does that exsist???
Before ( My now kitchen~ ugly oak cabinets)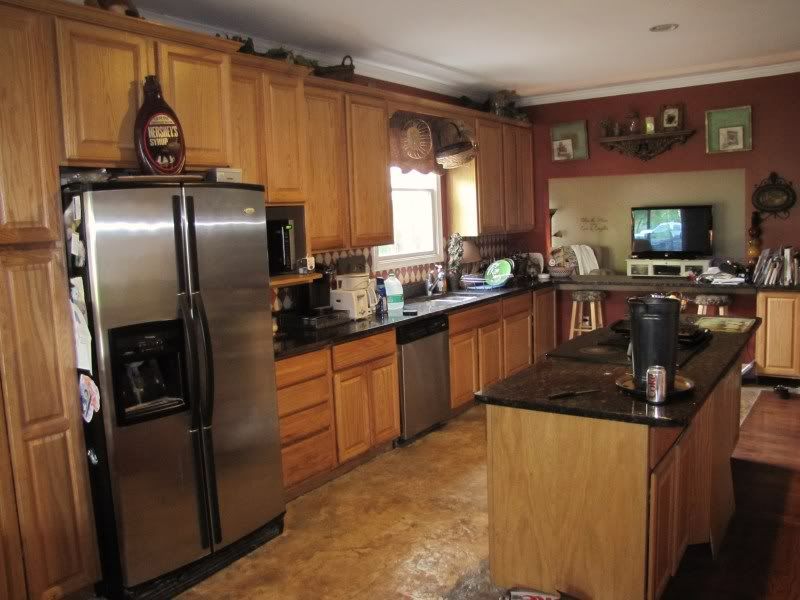 Cabinets will then be painted creamy white~ That alone with the walls painted.. should be big change. LOL.. dont ya think?
Color choices- not exact colors but want island either, Grey, Blue, Black, or Green
Which one should I do for the island????
Green example
Grey Example
Black Example
Blue Example