New Pool Build - The Woodlands, TX
Finally starting our new pool this next week! Geometric design:
Roughly 42'x18'
In ground gunite
Salt Water (IC 40)
Clean and Clear 520 Cartridge
~1,200' of Aski Kale Travertine Versailles pattern from QDI Stone (will be sealed)
2" Walnut Travertine coping on spa and 1.25" on pool (all sealed with Dupont Salt Water type stone sealer)
18" and 24" raised beams with Ashlar stone with 30" brick columns and large gas lamps on top of those
5 foot sheer descent
3 dog step outs (we have a small Chihuahua)
3 benches
Tanning Ledge with 2 bubblers
7x9 raised spa, Waterway jets
Mastertile MAS BMX100 1"x1" brown iridescent ceramic tile in spa and on spa negative edge spillway. Likely also using two rows of this tile as step markers throughout much of the pool and spa. Will decide when the price comes back :)
MasterTile SINNEWMLT 6" for all main pool waterline, excluding the spa. This tile matches our Walnut Travertine coping color. Had been thinking of using glass tile, but was concerned with the long, complex installation time and guidelines (keeping area under shade during long cure period), etc.
Pentair Equipment, including Easy Touch 8 w/ screen logic 2 (inc. ipod interface)and Mastertemp 400 gas heater
Intelleflow VS Pump
1 HP Whisperflow water feature pump
Kreepy Krawly Platinum
4 Pal Treo LED colored lights
Pebble Sheen, Blue Granite
17x14 Pergola
Small summer kitchen (9 feet built under existing patio), with 42" RCS grill, fridge and trash drawer built to match existing house brick
We have a 14' rear easement and 5' side easements so space was tight to fit this all in
Mike Lowman at Spring Pools will be our builder.
Will provide pics as we go along...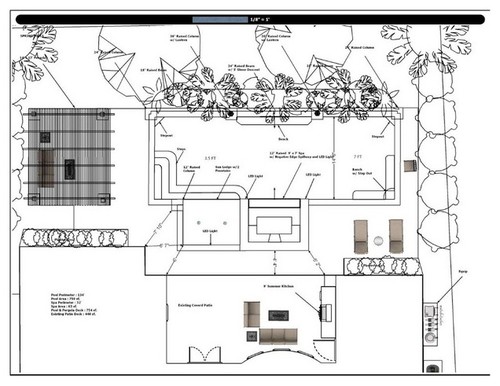 This post was edited by GS66 on Tue, Nov 19, 13 at 21:49