kitchen Lighting Plan - need reveiw help
I've started the lighting plan - am I close? Need help, please - have to finalize for electrician this week.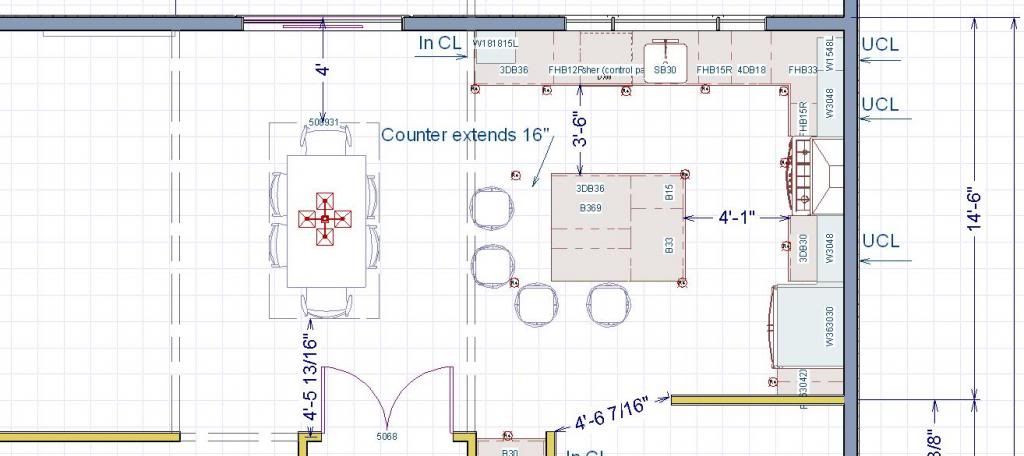 I used:
4" Cree recessed
24-26" out from wall
36" in between lights
UCL for three range wall cabinets (15" and two 30" cabinets )
Starting point ...Placed sink lights about 18" to either side of faucet - is that right:? Does that give enough light over sink work area? Tried to avoid directly over sink based on prior GW comments .
Placed island lights at 4 corners. However, there is lobbying for 3 perhaps pendants over island. I am worried that pendants would not provide enough light, and would look like too much going on visually.
Placed one light centered at the stand alone "nook" cabinet - although this seems to violate the "not palce direclty overhead center" comments
Oven wall lights .. not sure of best placement, light above range is not centered on range, refrig and pullout area seem kind of dark so placed light above pull out at 34"?
Should dining area have four recessed lights near the corners in addition to the over the table light that hangs down? If so... should I get rid of the recessed at the cabinet near to the dining sliding door?
Tired posting for advice on the lighitng forum but no repsonses.... and this is a BIG decision!
Appreciate comments, pls.