I scrapped it!
jennifer_in_va
May 10, 2012
My challenge quilt is due on Monday. I've been struggling with it for weeks, and last night, decided it just wasn't worth my energies. It all went in the trash (except the block with the orange border)
I was provided a fabric (the flower centers were cut from it) and the block design. They had to be in the 18" wall hanging somewhere/somehow.
I got this far and had 16 of the 2 1/2" yellow/brown paper pieced squares sitting on my table. I didn't like how they were going to look... All I could 'see' was Fallout Shelter signs!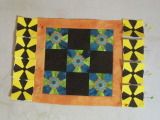 So, I did something I can't remember ever doing before. I swept it all into the trashcan!! I plan to make the main block into a much needed potholder and be done with it. It wasn't an easy decision, but I did it... Time to move on.