Help with a change - what to do insteadmofma closet?
So my kitchen layout is all changed from this original plan I have here, but I need this print to show you the closet all the way to the right of the kitchen. The closet with two doors. Well, that L shaped wall in front of the closet is not going to be there anymore and our GC thinks we should do something different. There will be a post in the corner where the L used to be, but i agree now that the walls are knocked down, and the little L wall won't be there, it needs something else. We have more than enough closet space, but any ideas on what to do there? Someone suggested a homework area, but I don't know.
For background, we have five kids under 9 and eat almost every meal at home. We have guests over a lot, because who invites over people with five kids? :)
I'll try and post the layout we went with for the kitchen, too. Thanks!
Edited to correct post title typo, but can't figure that out. Of course, I only proofread the post, not the title. Yikes . . .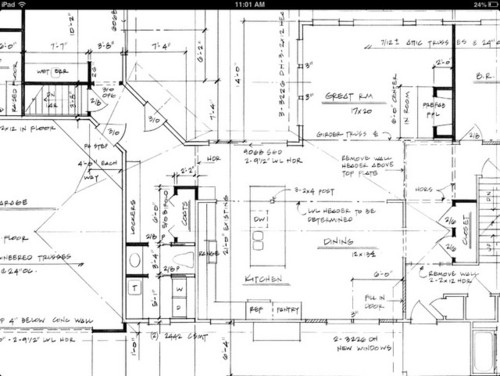 This post was edited by FamCook on Sat, Apr 12, 14 at 1:34