Diamond in the rough - help needed for good layout
Hello GWers,
I am in dire need of help with my kitchen design. This is a kitchen for one, but I do have fam and friends over for dinner quite often. Here are the issues (other than the obvious looks):
Almost everyone enters my house from the garage which leads to the kitchen via the mud room and there they remain (eagerly waiting for me to finish cooking so they can eat)
Kitchen isn't huge, but at 17x11 the space is not very well utilized. I want to remove the wall (likely load-bearing) between the kitchen (wall with fridge) and the DR so I can entertain and cook at the same time. The kitchen faces the front (west) of the house so I do not plan to move the windows - big window is 13" from floor, nor do I want to obscure for a better layout.
I do like the pantry space as ugly as it is in it's current state, so I would like that type of storage again. I plan for a CD fridge, 36" range top, DW, and double (or two single ovens. I don't need a prep sink as I can only use one sink at a time. I'm not big on a lot of uppers, but would like to have a pot rack, which I had previously and really liked.
With the wall removed I would like an island that is tighter towards the big window wall so I can keep traffic in front of the work area. I'm struggling with a good design that doesn't have the range top on the island, which I don't mind since I don't have, kids, pets, DH or anyone else to get in my way.
This is my forever house so I don't need to design for resale. House is a ranch so any venting can be direct through attic. As a point of reference, on the other side of the LR/DR is the FR. The door in the kitchen leads to the basement. I am not planning to change the layout of any other room.
I've included kitchen dimensions as well as photos of the current state. The wall (lower right) listed as 26" is really 28". The 38" doorway at the top right leads to mud room. The 35" doorway at the bottom right leads to DR. I welcome your ideas - THANKS!
Kitchen

Living/Dining/Kitchen/Mud &Laundry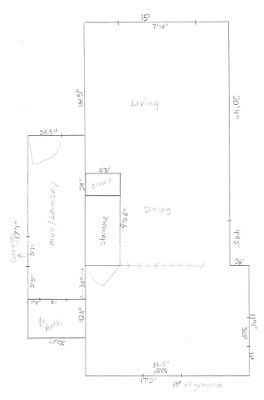 Current - eek