painted picnic table update (pic heavy)
Good morning!! :)
I posted a few months ago about a picnic table given to us by some friends. It was a funky blue color. It wouldn't have been so bad, except for where we'd put it (for now) Which is right outside the living room window. Every time I walked into the room, my eye was drawn out to the table and it stuck out like a sore thumb. I have lots of reds in my living room, including my curtains. So, it's workin' much better :)
I forgot when we decided to paint it red, what a PAIN that color is! I was also being cheap and lazy, when I decided to use some white primer I already had. Instead of getting gray tinted.
My 5 yr old did most of the work, lol. Seriously..he worked his booty off. Just look at the concentration on his face! :)
Wish I had some before pics, but I forgot to take some.
Anyways, thanks for everyone's advice on color, etc.
I'm happy with it. Yellow would have been better, though. Would have hid the pollen that's all over it every morning. BLECH!
It also needs another coat (or two) but I'm out of pain, and desire, lol. Seriously..I now despise red! I will finish it. Just not this wk :)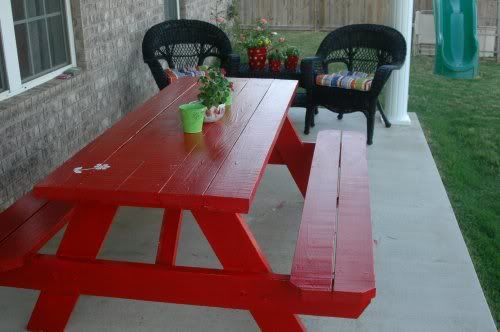 here's a few of my wicker I just did as well :)