Update backsplash and leave formica counters?
We are considering moving sometime in the next year or two. A real estate agent who viewed our home and saw that our kitchen was very nice except for the formica counters and backsplash (yes, they ran the formica right up the wall), has suggested that we could just do the back splash in a tumbled stone travertine and leave the countertopss alone since they are unstained, unscratched, etc.
I find it hard to believe someone would think that just doing the backsplash is sufficient, but what do you think? Hate to spend very much on this project, but want to get a good price on the house.
I think improving the laminate from the cheapest gray presently there to something like Bella Capri by Wilsonart would look much nicer, but the agent advises against that. I'd be very happy with it myself if we were staying, but you think others wouldn't?
Another question is how to get a good price on this job. The agent had recommended a handyman who could do anything--but when I called him I discovered that he's a contractor. He just quoted us $3650 for the whole thing, which is much more than we wanted to spend. (He's including new sink, faucet, etc. but our sink is actually fine. Can we get away with not upgrading the sink?)
Edited to add photo (thanks for the advice!)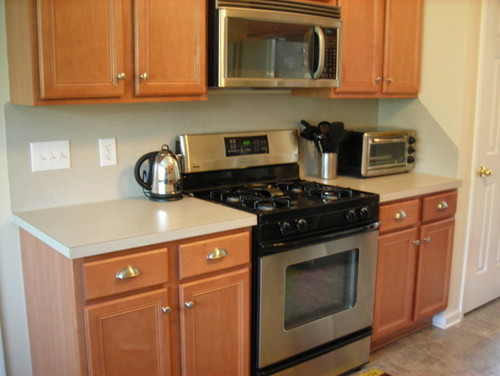 Here is a link that might be useful: Wilsonart Bella Capri
This post was edited by Bhamster on Tue, Mar 19, 13 at 14:38