My 'One Block' Crazy Quilt
dan_the_mailman
April 23, 2012
Phew! (wiping brow) My One Block Crazy Quilt is finished! A while back I was going through my fabric stash and found a number of pieces made of blocks I'd already sewn together. I decided to use them up in one big project. I like to use the batting with quilted fabric on both sides, so with that as my base, I cut up the already sewn pieces and pinned them to the batting. My idea was to make a crazy quilt, but instead of making individual crazy blocks, I'd do the whole quilt as one big, huge block. Yesterday I finished sewing the pieces onto the quilt, and today I did the binding. I won't need to do any quilting because I did that as I sewed the pieces onto the quilt. I had some help from my two cats, Bump and Stella, along the way, but now we can all use our new quilt!
Here are a few pictures of my results. I couldn't find a place big enough in the house to hang it and get it all in one picture, but here are some pix for you all...
Top Left Corner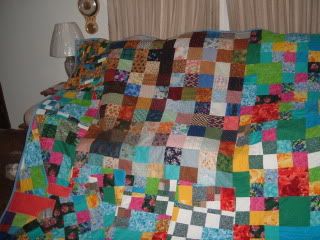 Top Right Corner
Bottom Right Corner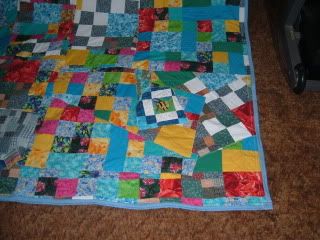 Bottom Left Corner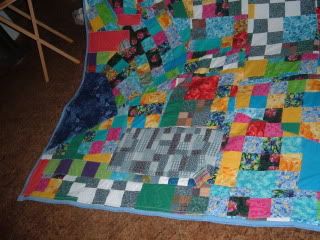 Some close-ups...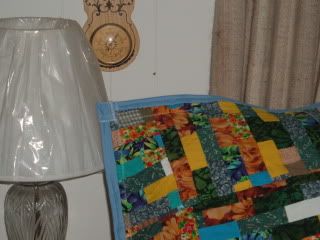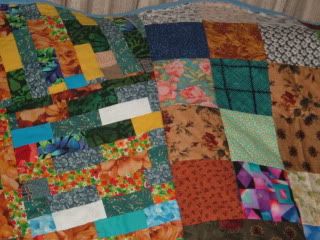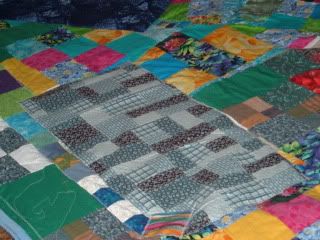 And lastly, me walking with it over my shoulder...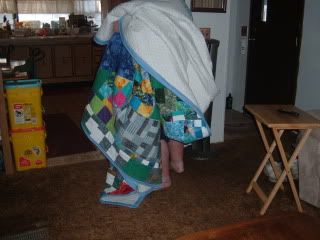 Things I Learned From This Project:
1) Pins are SHARP! (and I've the scratches to prove it!)
2) It was a lot of fun and hard work, and though I might do it again, it won't be for a long while.
3) Large patches make for less work.
4) It's good to take breaks.
And now, on to the two medallion quilts I've started!
-Dan
p.s. Almost forgot this picture of Stella testing the quilt...