counter height window bumpout, how deep is too deep?
homebuyer23
March 14, 2013
We plan to put our main sink centered in a 65" wide existing window bumpout which we need to raise up to counter height.
Its is currently a 12" deep bumpout. I am now wondering if that is too deep? I just looked at lots of pictures on old threads of counter height windows & didn't see any bumped out more than 8". I started to wonder if that would be too much space behind my sink...although I thought I'd love it for plants/herbs, we get great light.
And I'm wondering if I'll be able to open the window, stretching across 36" of counter basically. I'm only 5"3. I just pretended to do it across my kitchen table. It seemed do-able but not enjoyable! I'm planning the crank out type of course, but its still a stretch.
To make it shallower I guess we'd have to rip out the whole thing..exterior siding/small roofline above it and rebuild it all? That's not something I want to do.
Are there any solutions I'm missing? shallower cabinets/ counters around the window? Can a sink (hoping for farm sink) be installed in a shallower than 24" deep cabinet?
We're likely going custom, if that helps with a solution.
Is all that space a good thing, and I just deal with the stretch?!
Thanks for any input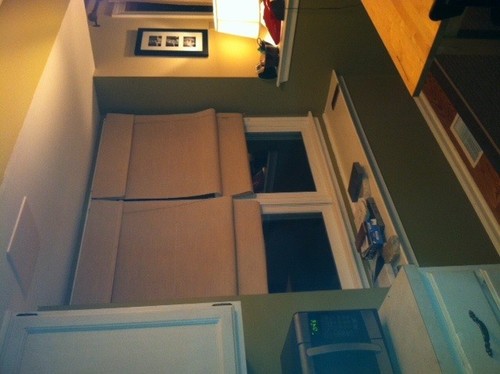 This post was edited by homebuyer23 on Thu, Mar 14, 13 at 23:43