Huango - answer to question about counter transition
Hi huango, I couldn't reply to your email, so I will just answer your question here. (PLEASE NOTE: The member responding to your post has chosen not to reveal his or her email address. Therefore, you cannot reply to this message via email.)
My quartz has a pencil edge (slightly rounded) so my contractor made a matching slight round on the butcher block.
http://www.graniteshopny.com/images/Edge Styles Photo.jpg
The cabinet installers installed frames painted to match my cabs under the quartz (on top of base cabs) so it was lifted up to be flush with the thicker butcher block.
There is a tight seam between the two but I don't think it's glued. My contractor just butted them tightly.
If we hadn't raised the quartz, we would have done a chamfered edge on the bb to transition between thicker bb and thinner quartz...but my slide in sink was also as thick as the bb, so we chose to raise quartz instead.
Here's a close up of the seam: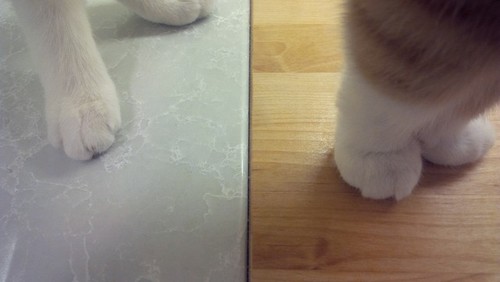 This post was edited by robotropolis on Tue, Mar 4, 14 at 23:21