New look for a little bookcase
cliff_and_joann
May 5, 2012
we took out an old air condition from the wall.
The wall has wall covering, so we just couldn't
sheetrock spackle and paint, so we made it into
a little bookcase. It was stained dark and I
never really liked it dark.
I painted it a cream color and we then made a stained
top, then we made these doors.
The pulls I got from signature hardware and antiqued
them in copper and the hinges I antiqued as well.
I like the new look, hope you do too.
after it was painted...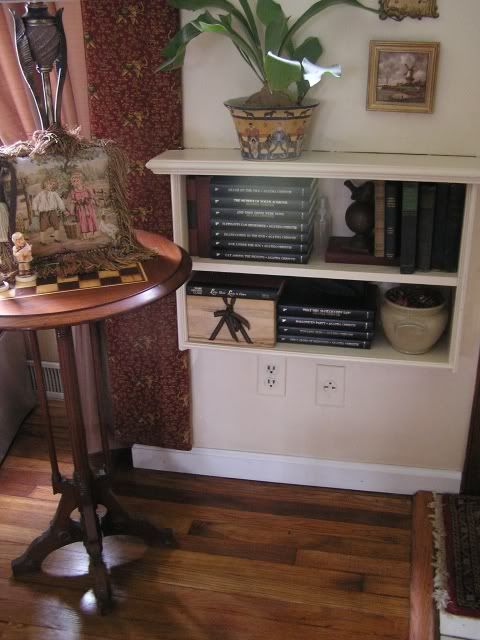 After the doors were installed
I stained the top as best I could to match the antique
table. (the table is cherry)
This table hubby restored several years ago, it had severe
water damage on top...we do hand rubbed finishes on all
the furniture we either make or refurbish. I don't use
wax when dusting, just a damp rag. So, when I put the
finish on the shelf, I also put a finish on the table
top to refresh it.
Hubby wanted to stain the doors, but I finally agreed
we have enough stained wood in this room. I think it looks
nicer blended with the wall.