Number of steps needed
So I am sitting here dreaming about the pool that I will have one day and I am trying to figure out exactly how many steps I will need.
The pool will be rectangular and approximately 14' to 16' in length and 10' wide (I know teenie tiny compared to the fabulous pools on this forum) so more of a dipping pool/sit on the ledge and have a cocktail type of plunge pool and only 4.5' deep.
The steps will need to be on the 'long' side (if you can call it that) and I am thinking the sitting 'ledge' will go the entire length of the pool and be approximately 18' or so from the top of the pool. Another 'feature' (more of a *possible necessity* due to depth issues - we possibly will have to drill on Blue 'B'itch rock if we don't do this and Blue 'B'itch is almost impossible to make a dent in) will be that we are considering a 15' to 18' wall (I have no idea what to call it) that you step over if you like to enter the pool - see the link to see what I am talking about so therefore it would raise the water level in the pool vs if the pool was flush to the ground.
As the pool is only about 10' wide how many steps do I need - I wont do the âÂÂladderâ steps I want âÂÂrealâ steps but trying to figure out how many I need is (for me) difficult - will they span almost the entire 10' width of the pool ??
Thanks everyone
Pia
ps: after showing my husband this pool he has now decided red is the colour of glass tile.....yikes :)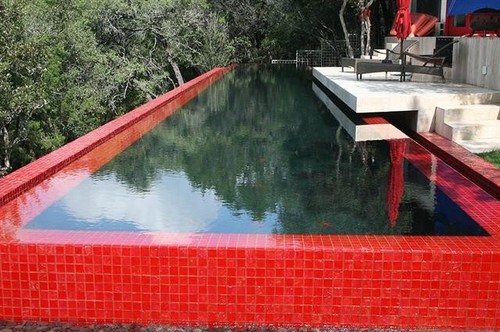 Here is a link that might be useful: Wall