April-May 2011 Applique & Paper Piece Lotto
The April-May applique/paper pieced lotto will again offer the option of doing either applique or paper pieced blocks OR both! You may enter up to 4 blocks in any combination.
For our paper pieced pattern, we'll be making Waste Not, found on Marcia Hahn's Quilter's Cache. And for the applique, this lotto's pattern is Star & Crescent, also on Quilter's Cache. Both blocks finish at 8 inches.
The colors for both blocks are turquoise or aqua and white or white on white. Small prints for the turquoise/aqua are fine as long as they read as solids and don't include additional colors. It would really be nice for the winner to have a cohesive set of blocks for a project. For Waste Not, Color 1 is white/white on white, colors 2 & 3 are turquoise/aqua. For Star & Crescent, the background is white/white on white, and the applique pieces turquoise/aqua.
Here's a photo of the sample blocks, with Waste Not on the left and Star & Crescent on the right. Believe me, please, it's the photo that's "wonky", not the blocks. They really are square! And the same white was used in both blocks!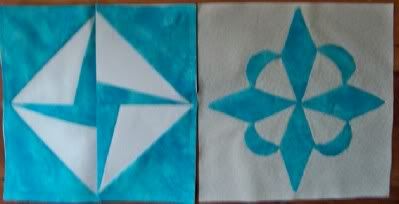 The link in this message will take you to our Google Docs pages with the posting of this lotto.
Also, for help with applique, I'm posting a tutorial about my favorite applique tool, a hera, in a separate message.
I'll also post links to the patterns in messages below this one.
For those who are new to this lotto, here are the general guidelines to follow unless directions in a specific month contradict them:
Applique:
You may needle-turn or use any SEWABLE fusible of your choice to secure your pieces. If using a fusible, pieces MUST also be stitched to securely cover the raw edges of your patches. (In other words, no fusible ONLY applique!) Double check that printer has printed the pattern template to an accurate scale.
Paper Pieced:
Double check measurements to verify that your printer sized the pattern accurately.
For very small pieces, trim seams to 1/8 inch.
Please do not remove paper foundations.
Both:
You will have 2 months to work on your blocks. They must be received by the moderator by the last day of the 2nd month.
The winner will be chosen on the first of the month following the lotto's 2 month work period.
Please put your blocks, along with a slip of paper with your real name, address, and FORUM name, inside a plastic baggie. Please include one dollar (or e-mail me for alternatives) to cover postage for sending on to the winner. Let's follow common lotto and block swap rules in regards to fur free, smoke and scent free 100% quilting cotton to be used.
If sending a combination of applique and paper pieced blocks, please include only $1 total, not $1 for each pattern. Your name will be entered into the drawing once for each block submitted.
The moderator's address is:
Kay Barkdoll
12026 Punch Bowl Rd
Mercersburg, PA 17236
Here is a link that might be useful: April-May Applique & Paper Piece Lotto