Calling all IKEA experts
Tying to undermounting a single bowl Domsjo sink in a AkurumâÂÂs 23 7/8â³ base cabinet
We really want to incorporate the Domsjo as an undermount as done here http://www.cape27blog.com/2012/07/how-to-undermount-ikeas-domsjo-sink/
also see attached picture
However on the left side it appears you have a gap. I dont see a gap on the right side.
My fear is the Domsjo sink is probably 25 üâ wide due the large lip that is supposed to sit on the countertop. When it gets recessed like that, the lip still sticks past the cabinet frame by maybe þâ which may be leading to the gap I am seeing. But Iam unclear on why I only see it only on one side? (see first picture in link i attached)
I want the cabinets adjacent to the sink base cabinet to be tight with no gap and I am wondering if thats possible if the Domsjo sink is wider than the sink base cabinet.
Hopefully that makes sense. Any insight?
****I know Brickmanhouse has done this "hack" which is often referenced on the boards, but his was with 24''Domsjo and 30'' wide base cabinet****
Undermounting the IKEA Domsjo Sink - Kitchens Forum - GardenWeb
Can this be done with NO gap? Maybe I am simply looking at this wrong?
Attached Thumbnails
Undermounting single bowl Domsjo sink in a AkurumâÂÂs 23 7/8â³-domsjo-sink.jpg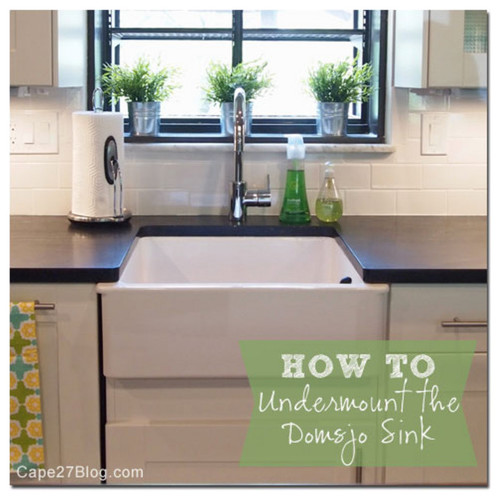 This post was edited by he8833 on Mon, Mar 25, 13 at 22:24