Pics of Quilts from Lotto Blocks
magothyrivergirl
March 1, 2011
I have won Lotto Blocks a few times and these are the quilts I just completed. I just needed to finish these so I could play again:)
The Bowtie Block was my first time playing, and I was brand new! I won a lot of blocks - did not use them all in this quilt. I got help squaring them and deciding which ones to use at a "sew-in" afternoon at the local Pfaff dealers for anyone who wanted to attend. I was the only one - so got undivided instruction - that was 2 years ago, as I think I won these in Feb 2009. I immediately sewed them altogether and promptly moved on to more projects. What a fantastic learning experience this was for me! And I thank you all & the Instructor who helped me!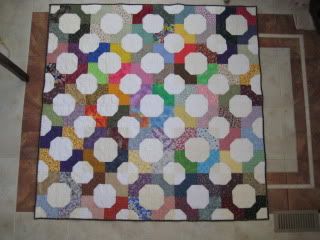 The second quilt is the Friendship Block that I won in January 2010-it was supposed to be manly, jewel tones.
My DH wanted a quilt, so while he was on a business trip, I pulled out these Lotto blocks, used a soft non descript khaki-color w/ tiny navy swirls I had and made it work. I pieced the backing from the fabric I had left from my own blocks - the border was a remnant I had picked up at LQS, and the binding was supposed to be for something else.
He loves it ~ it was still damp from the dryer when he covered up with it. My little dog jumped in his lap the minute he covered up with the quilt.:)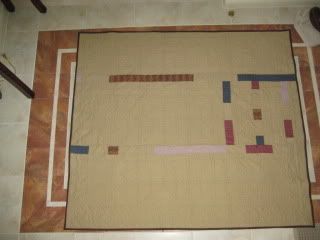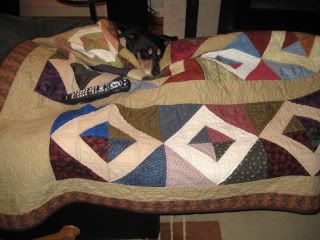 I also used these two quilts to work on applying a really good looking binding completely by machine. Since they were for us, and scrappy, and will be washed often, these were the perfect quilts to complete with the methods I have adapted. I am very happy with the outcome.
Thanks for looking!