New Rugby Faucet
lucas_tx_gw
March 13, 2013
First disclaimer...haven't installed this thing yet, so I might be singing a different tune a month from now but I hope not.
Second disclaimer.. I don't have any relationship with Rugby, I'd never heard of them two weeks ago. But one of the nicest things about this forum is the ability to learn of things one has never heard of before, so I wanted to share this tale of my new faucet.
I'd been looking around at faucets, wanted good quality but didn't want to spend what I consider megabucks on one. One day I was in a good local hardware store (Elliotts for those of you in the DFW area) looking at the high end faucets they have and bemoaning the prices and the salesman told me I should check out this Rugby. He said it was all metal, stainless steel, lifetime warranty. We're looking for a pullout and I liked the style of theirs but they also make pull downs. The price wasn't too bad but it was close to $400.
So I decided to check it out more. Went home and googled it. Link to site provided below. Checked the site to see if there were other dealers locally and found a local granite shop that has a very good reputation (Heritage Stonecraft) that sells them as well.
So I gave them a ring and asked about the faucets, can you get spare parts, etc. They said yes, no problem, but you probably won't need them, the faucets are great. Occasionally they've had a few start to drip and in that case, the company sends out an entire new head, since they have the lifetime warranty. Best part, their price, $275!
So I went down one day, gave the faucet another once over and then had them order one for me. A few days later it was ready for pickup so I went to get it.
OMG. See the photo. I've bought jewelry that didn't come in as nice a box as this faucet!
Feels great, very solid and heavy. So here's hoping it performs as well as it looks and feels.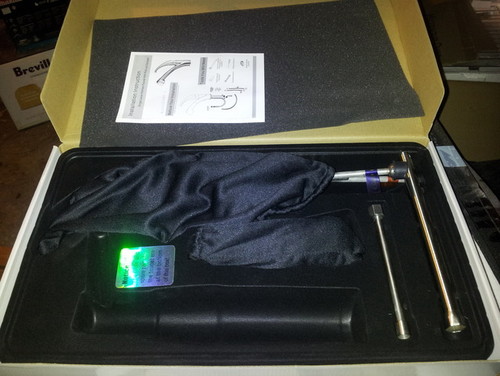 Here is a link that might be useful: Info about Rugby faucets