Please advice I am a Newbie, need ideas for kit. redo.
Hello I am a new to GardenWeb, I am impressed with other ideas I have read on GW. I am hoping to get some opinions & ideas about proposed layout by my KD. Hopefully this kitchen remodel can take us to our senior years. We are re-doing kitchen mainly cause its time and our wood floors are being replaced due to water damage: washing mach. backed up. Today kitchen is gone-no appliances, etc.
Kitchen Goals: open floor plan with more: function, storage, new appliances and cabinets. The kitchen has to fit in existing space which includes a few feet more into den den than our prior kitchen.
The drawn diagram by KD will show the maximum distance we can go into the den. The appliances can be moved anywhere in kitchen area, we are open to that idea as long as it provides better workflow, prep area and storage. We are looking at Wolf appliances (floor models -save money). Kitchen needs to appeal to other people as one day have to sell. The sink and cook top should be fairly close to one another as we are having new glued down wood floors installed, we donâÂÂt want to spill water between the 2 areas much as it will ruin floor (may get a rug). We do want a wall oven's, (bending over hurts our backs) & gas cooktop
There are some constraints in our kitchen due to the den space attached and size, doorways, need to fit a couch in my den. The den cabinets are not movable.
My ceiling is about 8â high. Photo below shows a coffered ceiling, we love this & want something similar. Plumbing can be moved but hesitant due to the dust that it will kick up and possible expense-but will agree if people seem to think this is the best solution.
As for cooking we donâÂÂt do much frying, mostly cook stews, boil veggies, and bake in the oven. We donâÂÂt entertain much (probably because the old kitchen was so crowded) I would say we are informal.
Currently bay window is staying, it has older windows, we are going to cover bay area with walnut counter top, add new cabinet fronts. Bay window cabinets are only 28.5 " tall. We walk by bay window to get to my pantry, laundry; so a table near that window will break up the walk through.
I appreciate your time and thoughts about our kitchen re-model. Thank you in advance!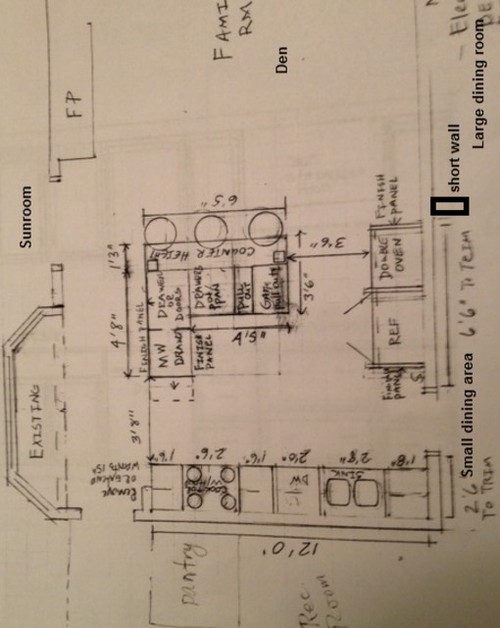 This post was edited by kdjess on Thu, Mar 28, 13 at 15:53