DIY Ikea kitchen in progress: help with lighting & curtains?
We are mostly DIY'ing this kitchen renovation, and are now probably more than halfway through. I've been planning this for over 3 years, and I got so much helpful advice here from the times I posted requests for input plus reading others' threads about their own kitchens. We changed our plans considerably, mostly due to budget constraints (this is LOW budget), but I think we are still capturing the feel we always wanted.
So, I wanted to share a progress update and make another request for opinions, this time about lighting and window treatments.
Here's where we are now: walls painted, cabinets are in, counters in, appliances in - kitchen has been in normal use for a couple of months now. The cabinets are Ikea Ramsjo white (er, really a bit pinkish depending on lighting) and counters are Ikea butcherblock finished with Poly Osmo oil. We're very pleased with them so far. And we adore the Elkay sink with drainboards on both sides.
What we have yet to do: lots of trim (cabinet filler, end panels, windows), patch the floor in the one spot where the floorplan changed, and backsplash (already chosen & planned).
The view when entering from the dining room: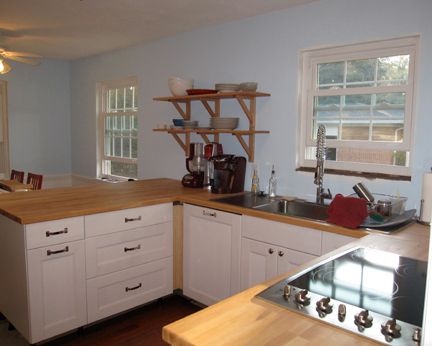 And this is the view from the eat-in area of the kitchen toward the working zones. This shows the wall that will be completely tiled, including over the doorway.

This wall will get this Broan range hood: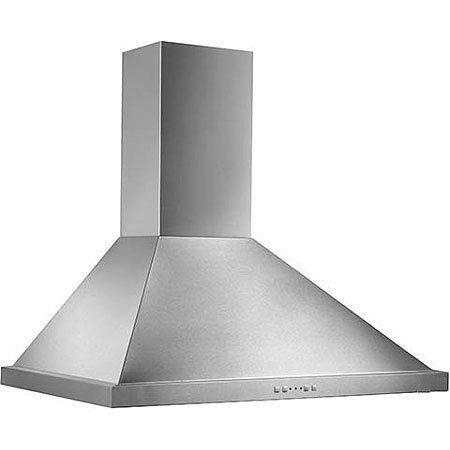 And the tile we've chosen, Mexican talavera:

What I would most like to get input on is lighting. I know, it's hard to believe we want to replace that classic nipple light :) We have that overhead in the center of the working part of the kitchen, a spot for a small light above the sink, and another centered above the peninsula. There is also a ceiling fan above the table and chairs (where I was standing when I took the photo showing the oven wall), and that is staying. We may replace with a better-looking fan, but we live in FL and really use the fans in my house. I was originally thinking of using schoolhouse style fixtures and lampshades, but now I'm not so sure. The mid-room ceiling light needs to be pretty close to flush, because we have just shorter than 8-ft ceilings here. We're not going to put in recessed lighting, not only because we don't love that look but also because we have already spent more than budgeted on electrical repair and upgrades. I'm at a total loss, and would love to hear suggestions!
The other thing I'm lost on is window treatments. Curtains, blinds, shades… we've now been living with no window coverings for months, and this is getting tiresome. I can make my own curtains if I find fabric that works. I was thinking red, to tie in with the small appliances and dishes we have out, as well as the tile. But I think I have decision fatigue - I look at the billions of options and nothing says "yes, I'm the one!"
Thanks in advance for any suggestions!