My One True Green Transitional Kitchen
We moved into our ultra-energy efficient (HERS score of 41 without solar or geothermal!), earth-friendly, universally-designed home about six weeks ago. Unpacking has been slow with an active, newly-dairy allergic 3-year-old and my own ongoing health issues, but I'm finally ready to share.
My husband is from the Netherlands and I love to cook, so we knew our kitchen would be prominent in our home, with a transitional bent. This is the perfectly practical, beautiful kitchen of my forever home dreams.
DETAILS:
Cabinets: Custom made by our amazing Amish cabinet maker, Joe Yoder. All drawers are full extension and soft close with Blumotion. We loved working with him, and he will be making the custom cabinetry in my pantry eventually, after we catch our financial breath!
Touch Activated Recycling Center: Cusom made by Joe Yoder. Power by Blum Servodrive.
Counters: Hanstone Specchio White quartz, with a small slab of marble on the baking center.
Floors: US Floors Marcas Areia planks
Backsplash: Solistone Mardi Gras in Carrollton.
Main Sink: Blanco Stellar Single Bowl with grid (441024)
Main Faucet: Delta Touch 2.0 Pilar
Main Disposal: Waste King model 8000 1 HP
Prep Sink: Blanco Stellar Single Bowl (441026)
Prep Faucet: Delta Touch 2.0 Pilar
Prep Disposal: Waste King model 8000 1 HP
Insta-Hot: from Insinkerator (LOVE this!)
Cooktop: Dacor PGM365-1S (saved $$$ by buying a floor model)
Venthood: Vent-a-Hood SLDH14-136SS (saved $$$ by buying a floor model)
Wall-oven: Jenn-Air JJW9830DD (saved $$$ by buying a floor model)
Microwave: Sharp KB6425PS (saved $$ by buying a dent and scratch)
Fridge: Whirlpool GSS26C4XXY
Dishwasher: Bosch SHE68E05UC
Freezer (in pantry): Frigidaire FKFH21F7HW
Island pendants: ET2 Fizz
Under Cabinet Lighting: Task Lighting Sempria LED UC Series
Under Cabinet Outlets: Task Lighting Angle Power Strips TR Series
Pantry Light: Maxim Malibu
Hardware: Generic pull bars that available everywhere.
Favorite Things (in no particular order):
* cork floors. So soft. So quiet. So easy to clean. LOVE LOVE LOVE them.
* quartz counters. Love the recycled glass and mirror. Easy to clean, no staining, despite my leaving turmeric and juice on it over night! eep!
* instahot. We drink a lot of tea. Now we drink more.
* my backsplash. It stopped me in my tracks when I saw it in a display and if possible, I like it even more in my own kitchen.
* vacupan under the prep sink. I put it to good use!
* pantry. I love having everything I need to make anything I want.
I'll stop now! :-)
View from the dinette: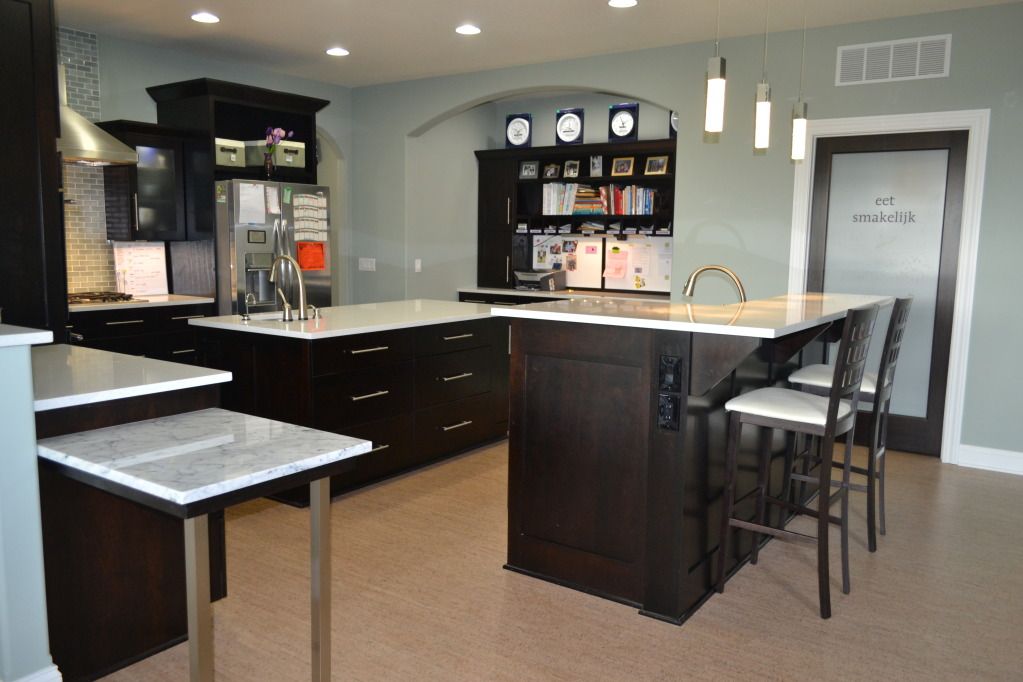 View from the back corner (looking into the great room):
View from the command center (looking into the dinette):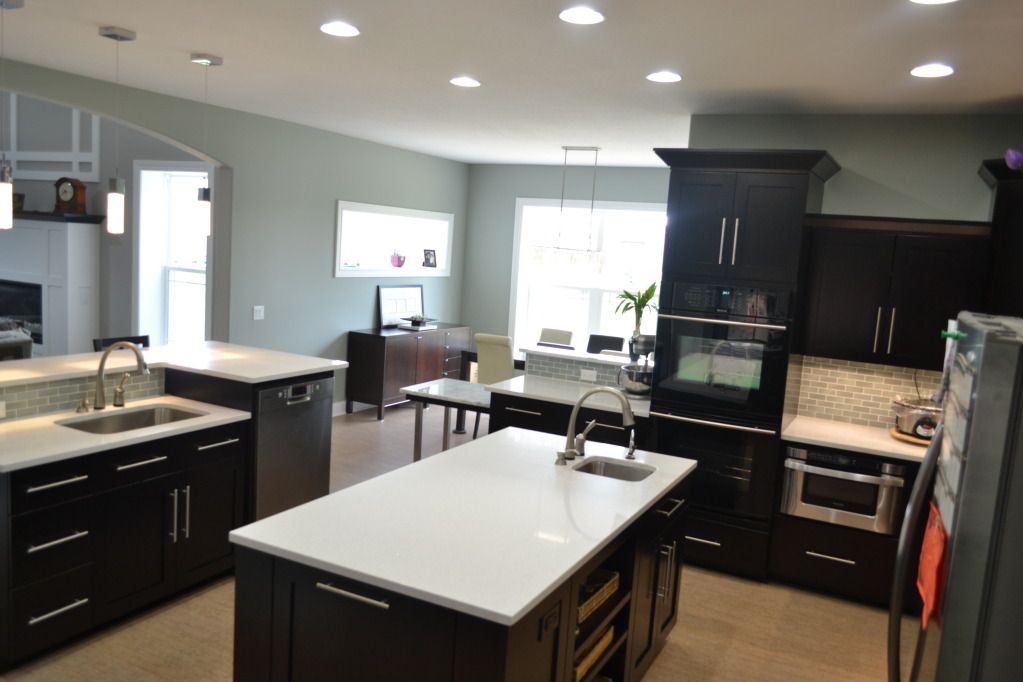 View from the pantry door: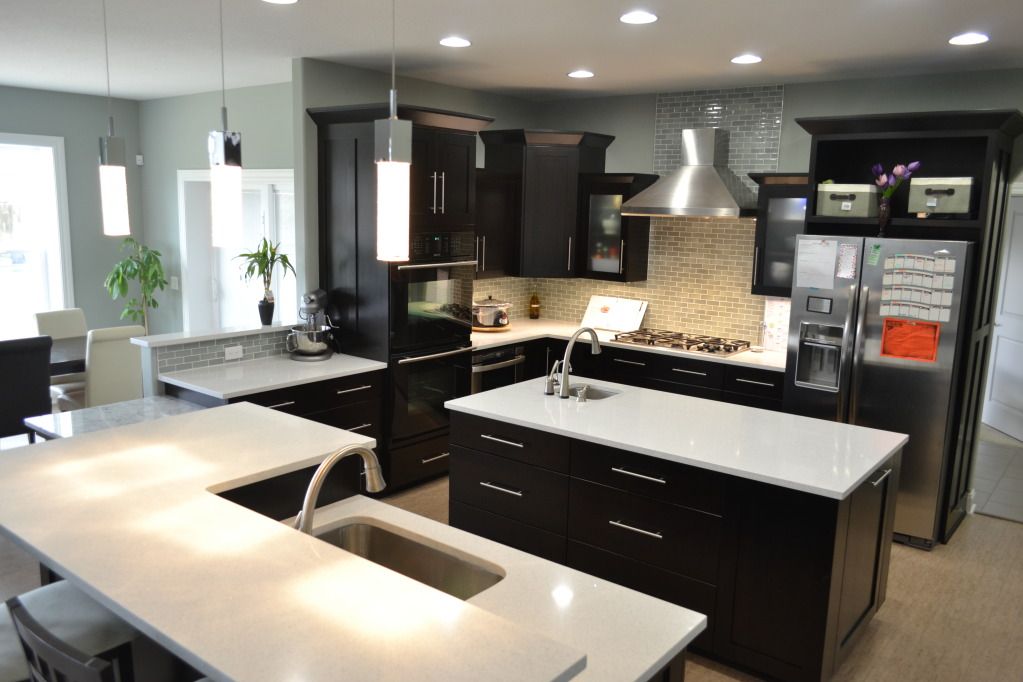 ET2 Fizz pendants: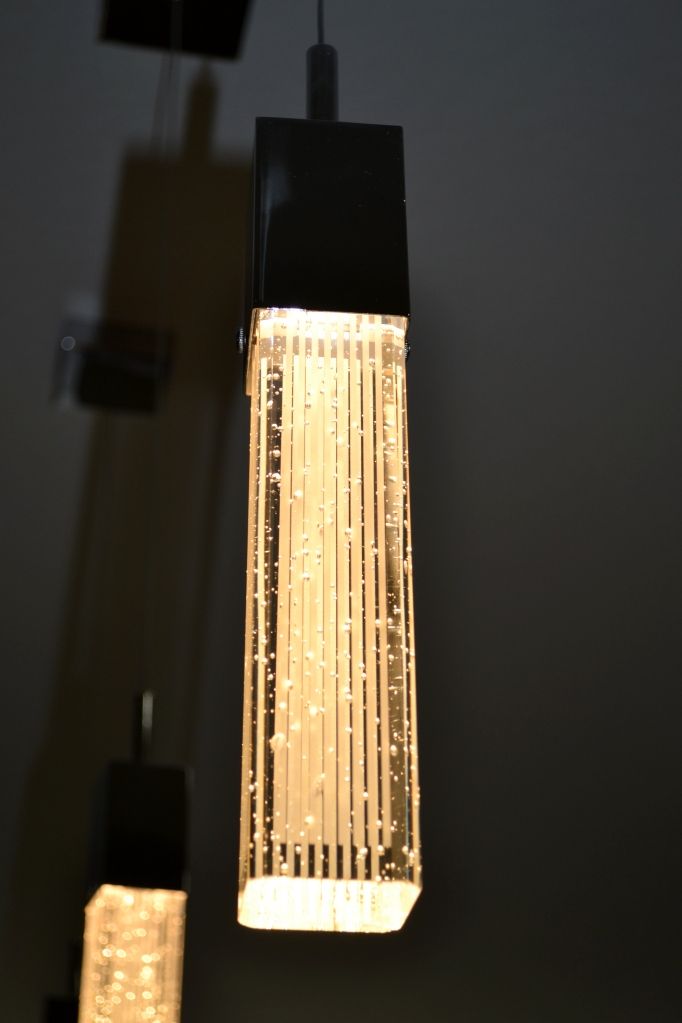 Baking Center with lowered marble-topped counter and big drawers.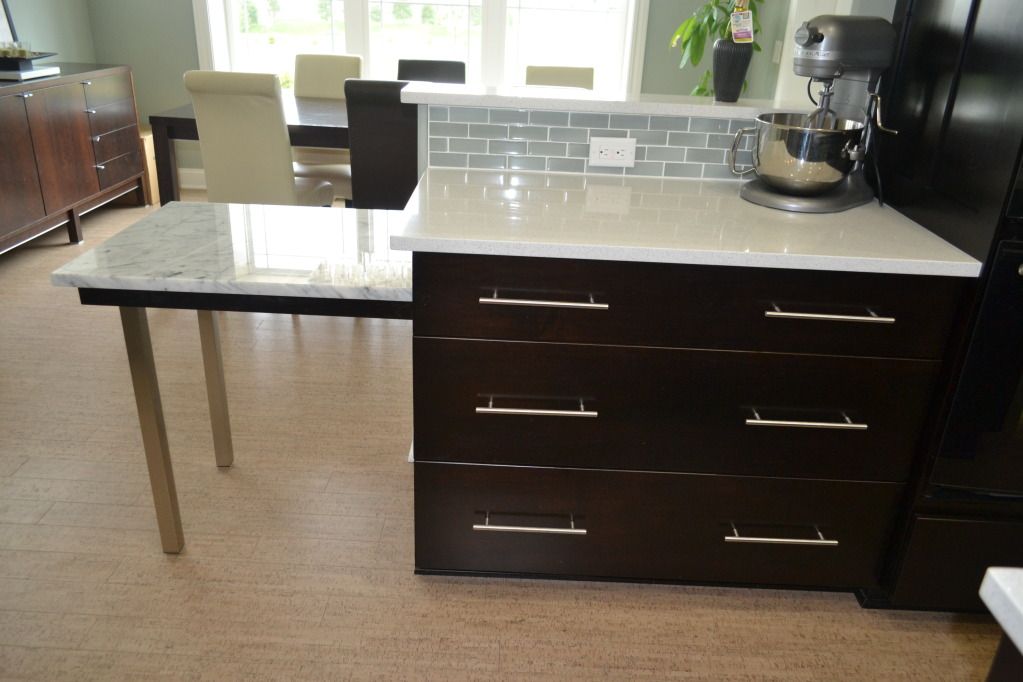 Top drawer of the baking center.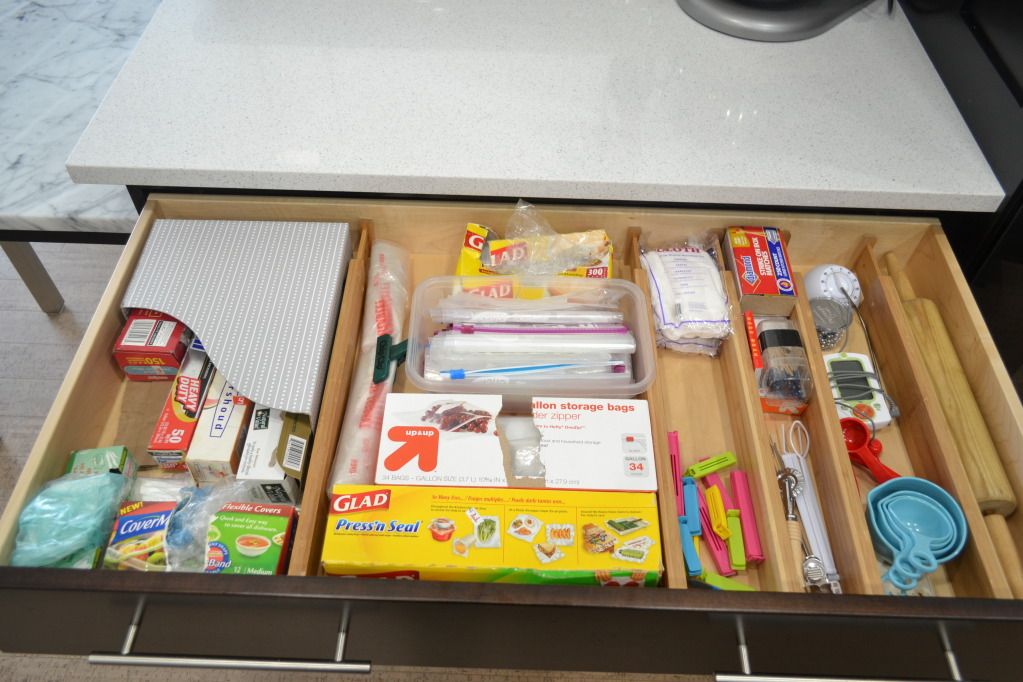 Most of my baking supplies fit in one of the drawers. I don't having anything in bottom drawer...yet.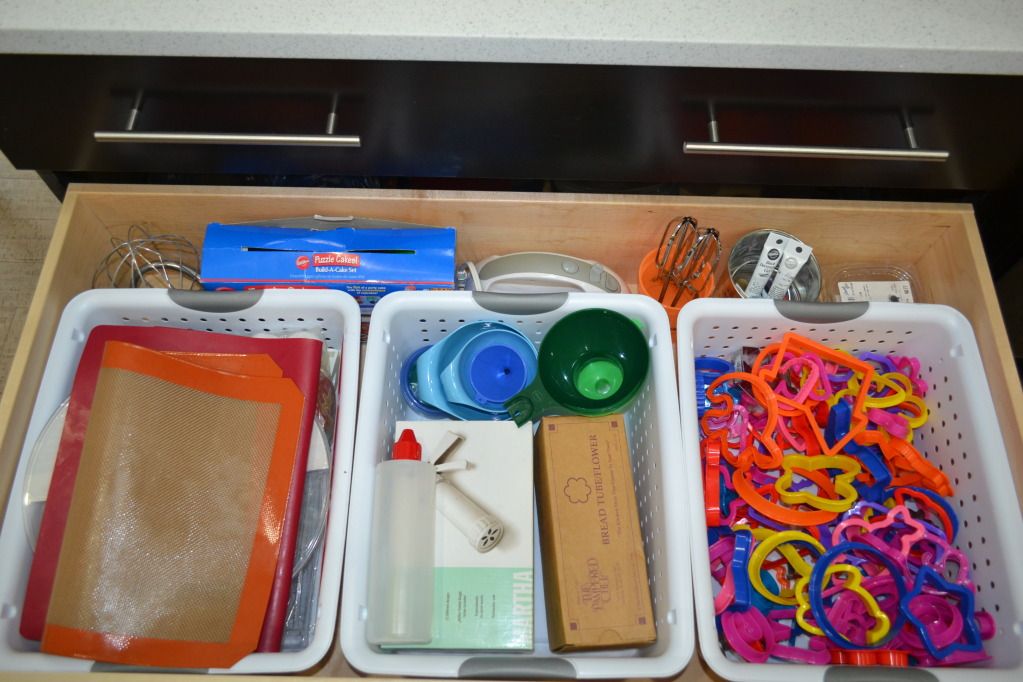 Next to the baking center is my double oven, with a drawer below and storage racks above:
A nice bonus, the doors are high enough that I can't hit my head, but still low enough that I can reach everything I need.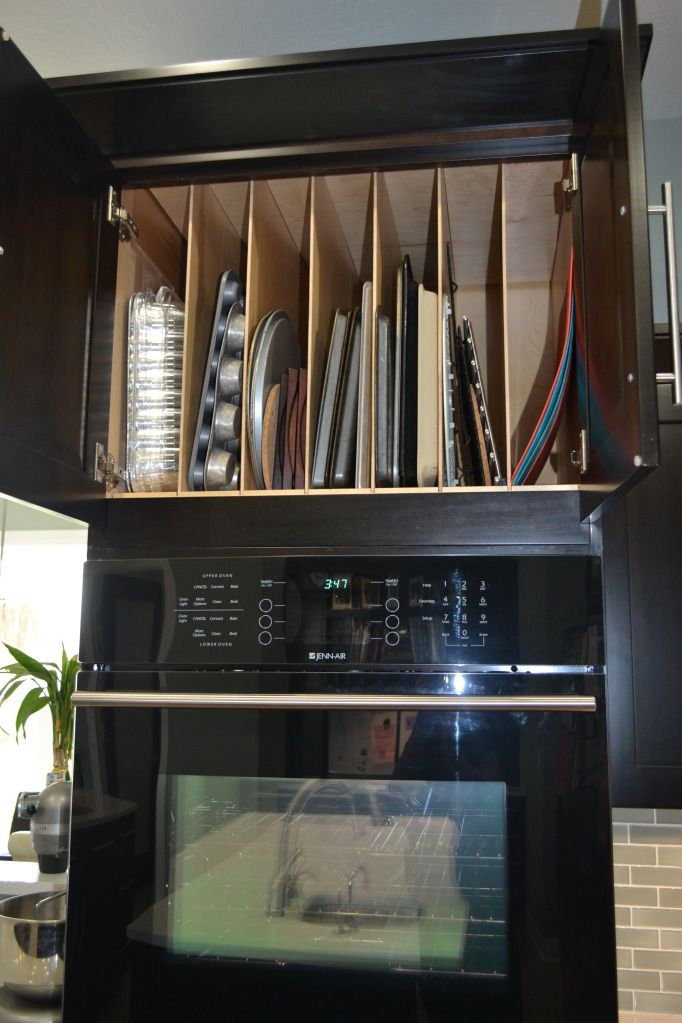 Glass and Mugs above, Microwave drawer and another big drawer. The crockpot isn't always there, but I was making curried chicken today. Yum!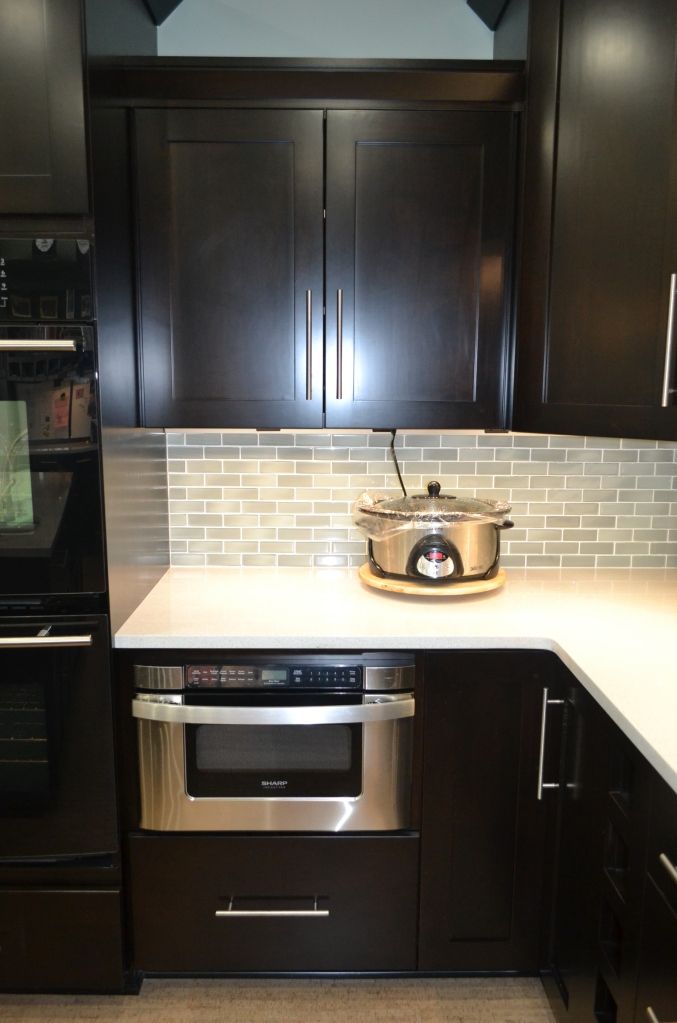 Under cabinet outlets by Task Lighting because I didn't want to break up my pretty backsplash: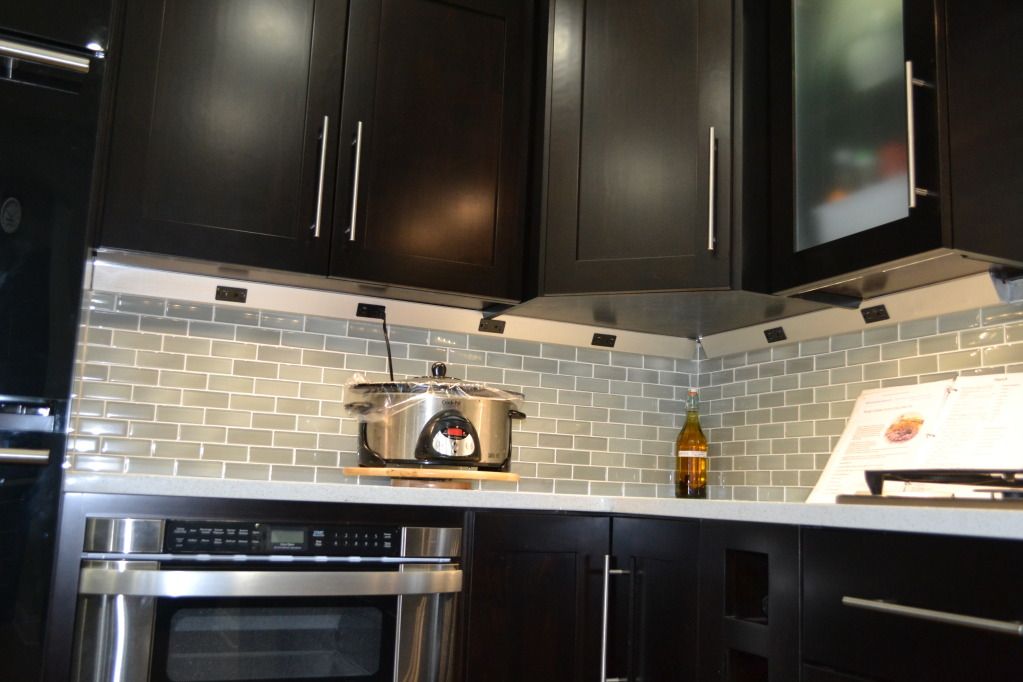 Corner with storage above and super susan below (which is nearly empty):
Cooktop wall. Love the bottle racks our cabinet maker put in:
Spice drawer:
Cubbies for my oils and cooking wines: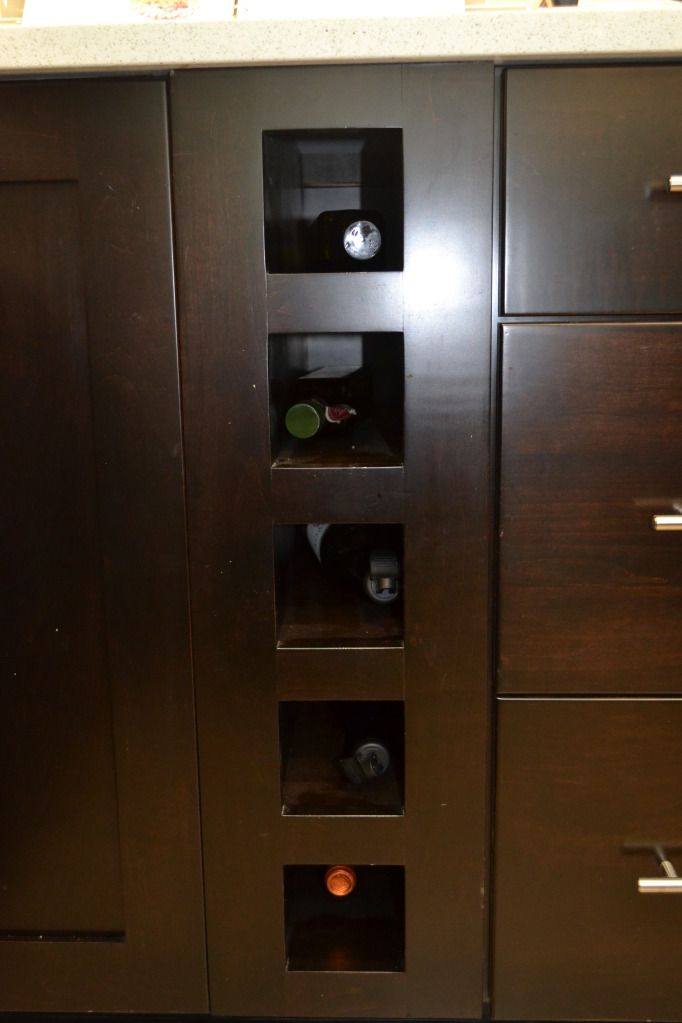 Solistone Mardi Gras in Carrollton: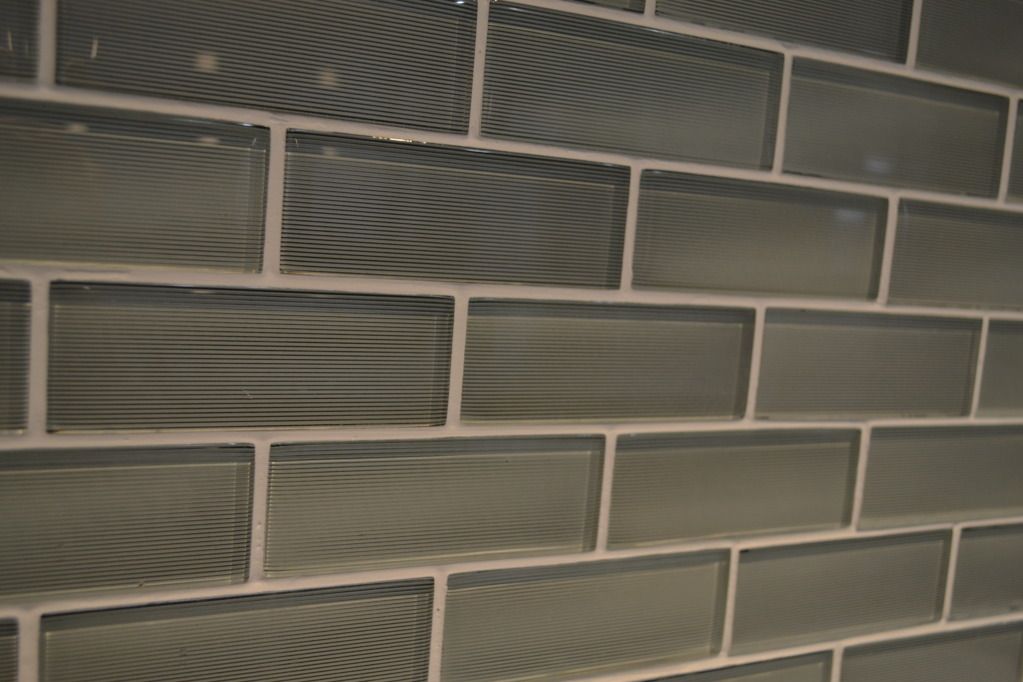 Bread drawer for the bread-addicted hubby:
View of the prep island from the cooktop side:
LOVE the instahot: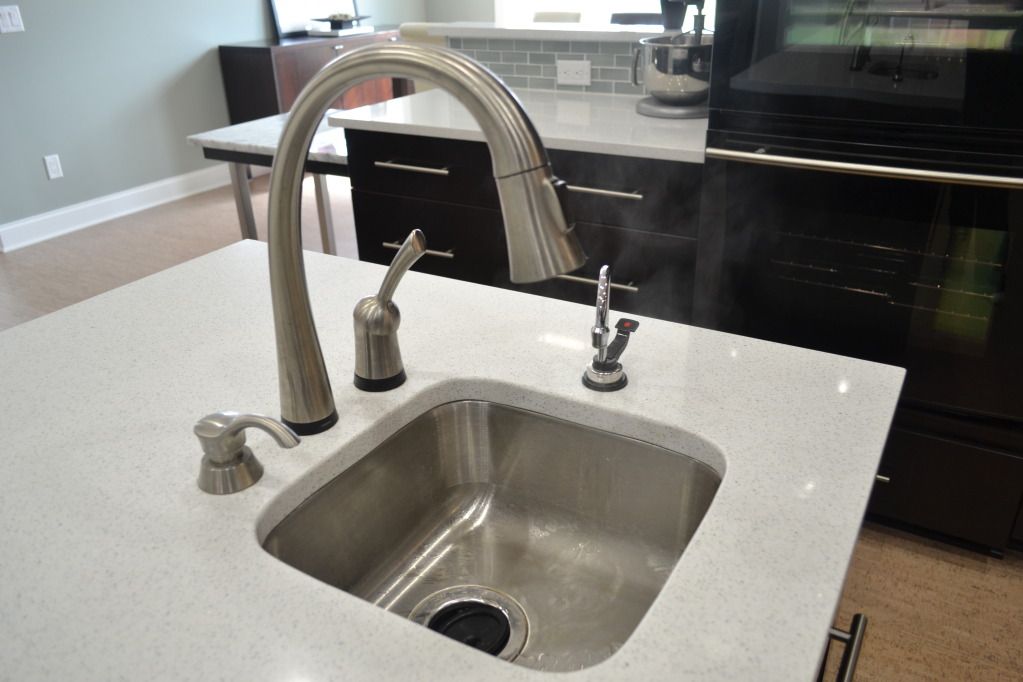 Command Center (ignore the cord that fell down. That has been clipped up)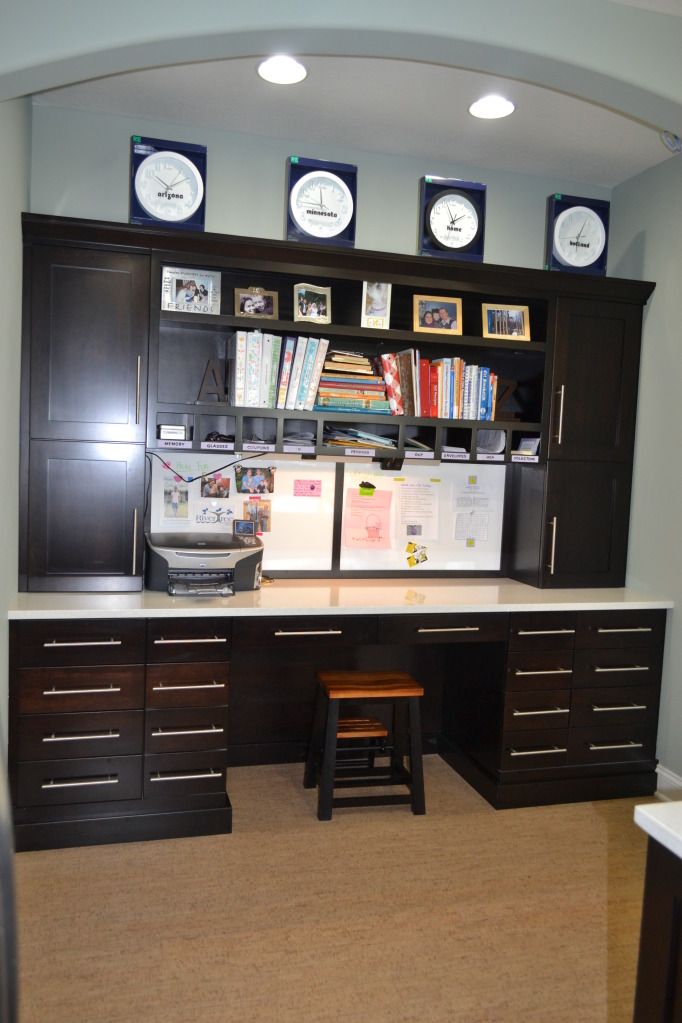 Touch activated recycling center, closed: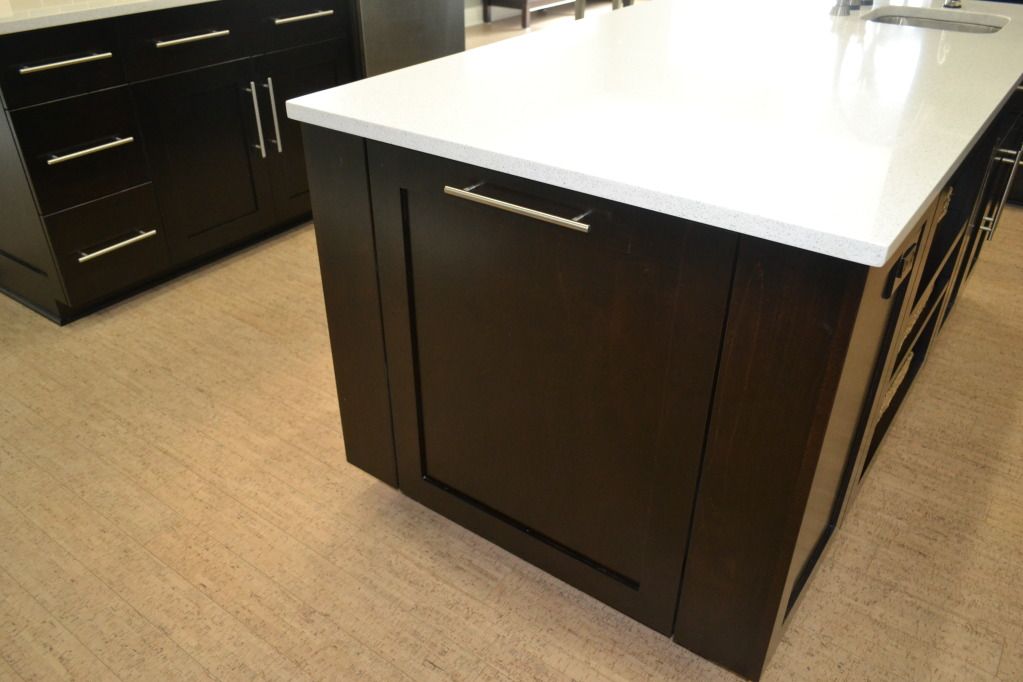 Touch activated recycling center, open: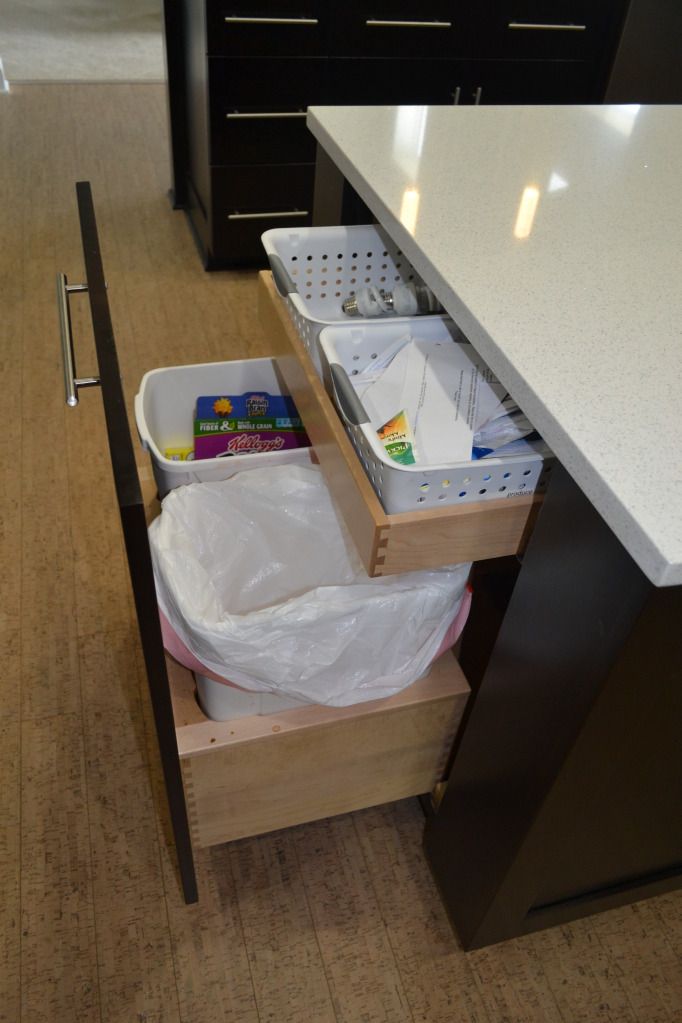 Outer Island with raised dishwasher. DH loves that it's like a bar with lots of lean-in space:
Other side of prep island, with drawers for all our dishes: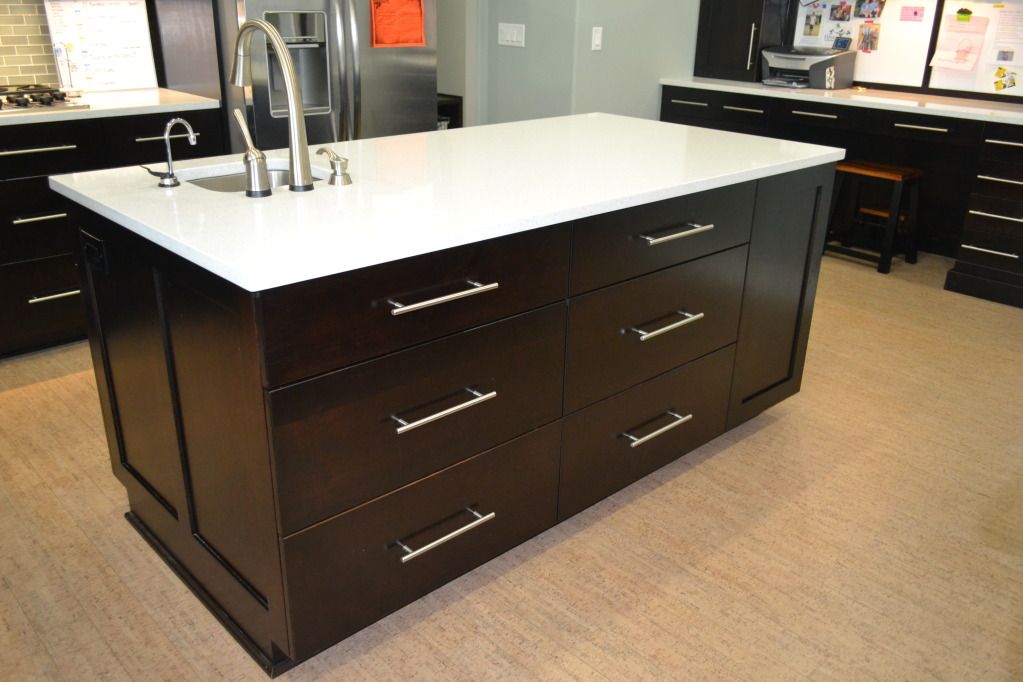 The drawers are so big that just this one holds my mom's entire 12 place setting china set.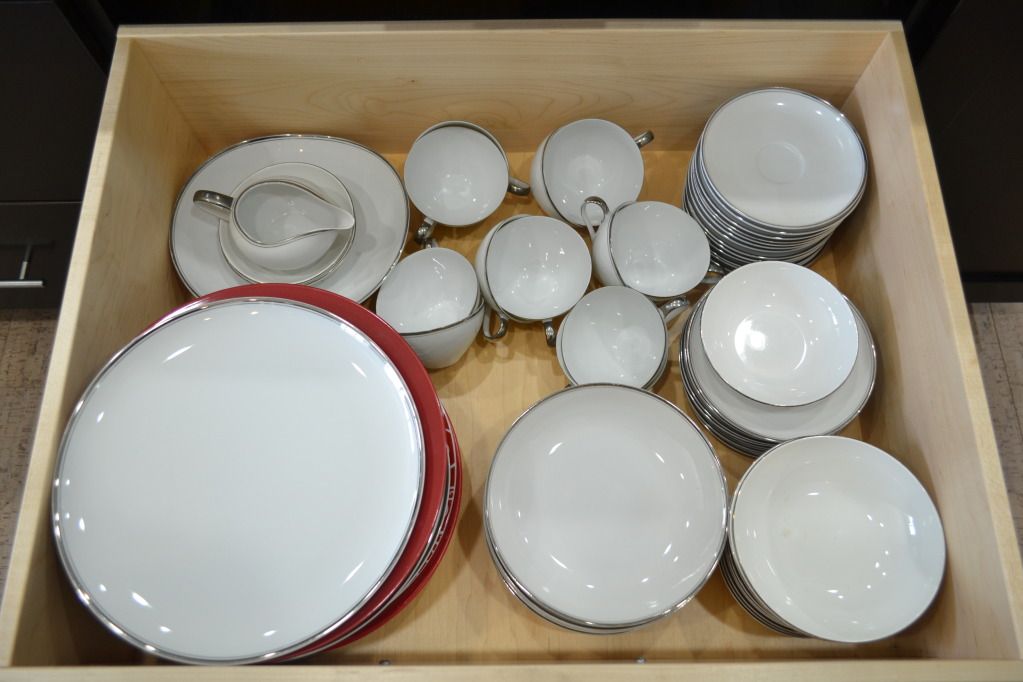 We're switching to all cloth, so for now, I have 3 drawers of cloth towels. It'll get organized eventually.
Love the single bowl sink. This was DH's one request. Since he cleans the pots and pans, I was happy to oblige.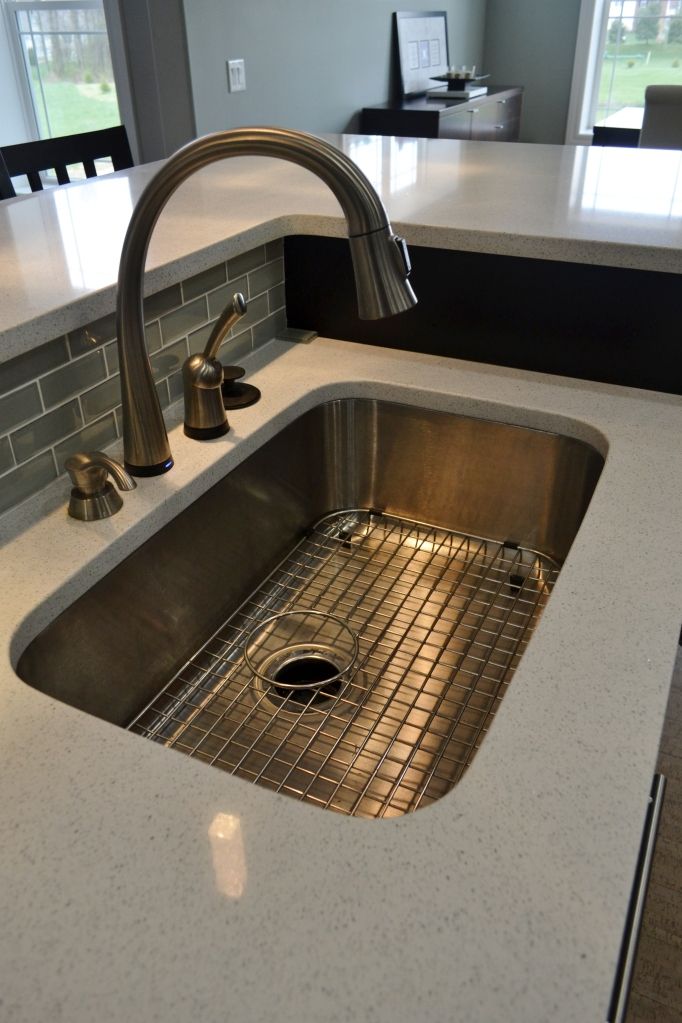 Close up of the quartz:
I had to personalize the pantry. "Eet smakelijk" means "eat tastefully" in Dutch.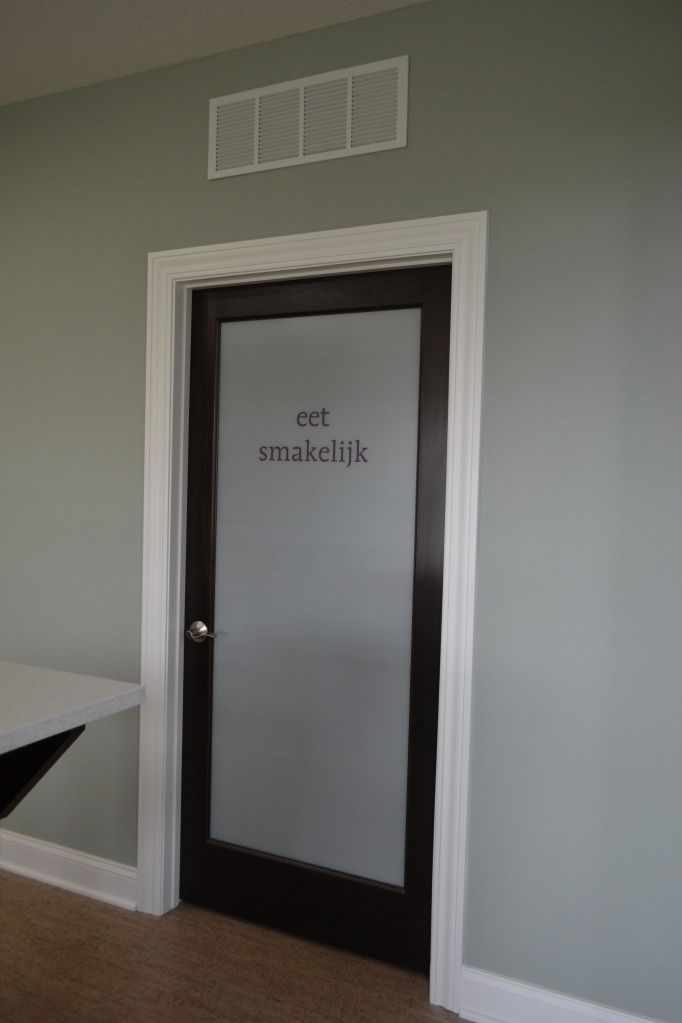 My pantry :-)
On the freezer, you can see what the pantry will look like after the shelving is in: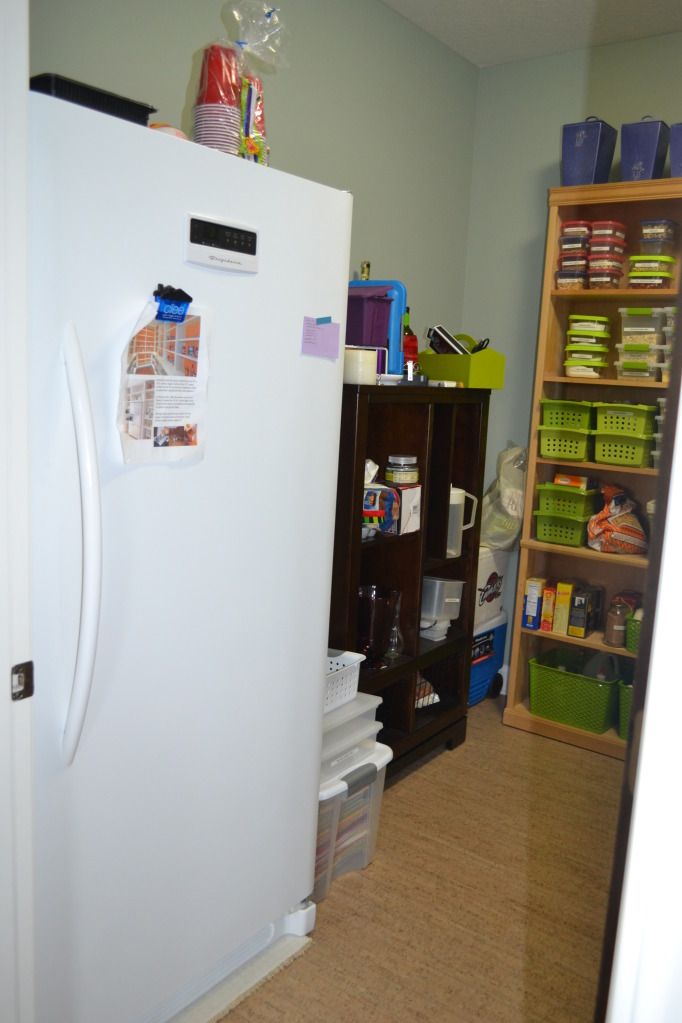 My temporary appliance shelf:
Close up of the cork: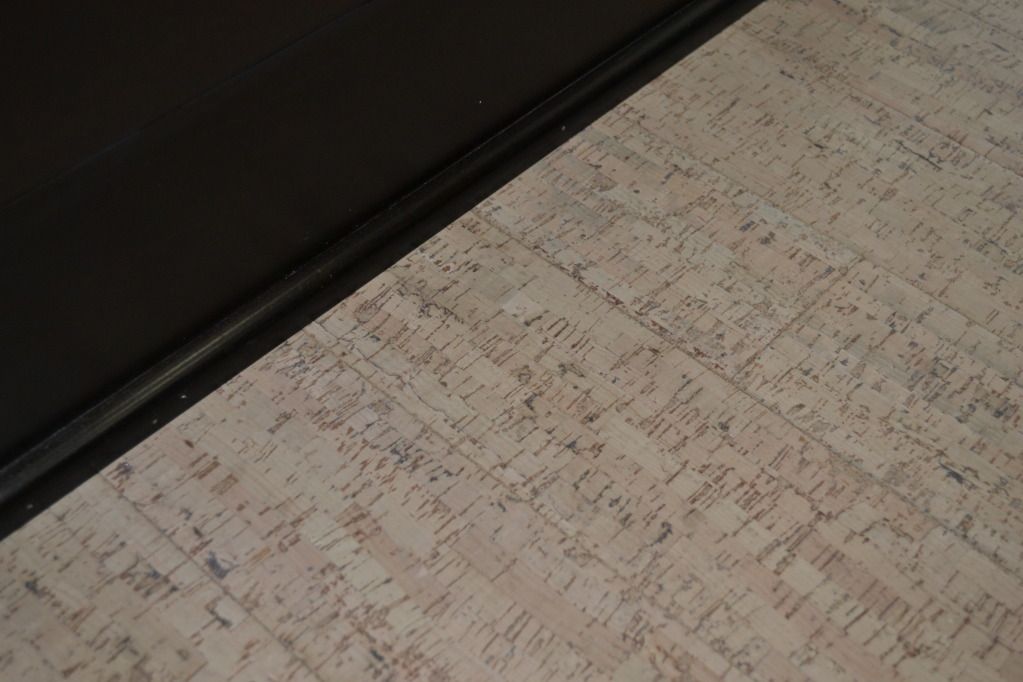 Thanks for all the help over the last two years of dreaming!