April 2011 Block Lotto
The block for this month is called "Double Pinwheels", and was chosen by buteau3rd. The colors for this month's block are scrappy small prints with a white or white-on-white background. This makes a 12" finished block. And here is a picture of buteau3rd's sample block: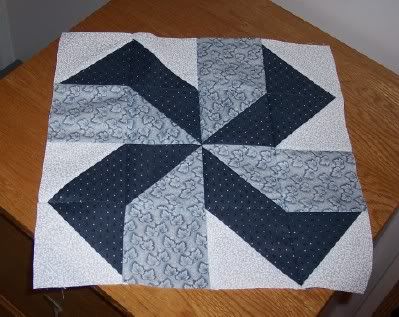 The pattern is located on quilterscache.com. The link to the pattern is below this message.
Here's how the monthly lotto works...
One to two weeks prior to the first of the lotto month, the block pattern and colors are posted on the forum.
You may enter from 1 to 3 blocks. For each block you send, your name will be entered once.
Please put your blocks, along with a slip of paper with your real name, address, and FORUM name, inside a plastic baggie. (A return address label inside or on the outside of baggie works well too.)
Please include one dollar (this covers all blocks sent, NOT $1/block) to cover postage for sending on to the winner.
We ask that everyone only send their best efforts! We are not looking for perfection, but please take your time, have fun, and send only the quality that you would like to receive.
PLEASE BE CAREFUL HERE! Some blocks have come in lately that weren't quite matching seams very well, In fact, they were WAY off! Make your block of a quality you'd like to receive! There have been several posts lately addressing basic quilting tips. It even helps the more experienced quilters refresh their work to go back and read those tips.
Please note the following guidelines:
Use 100% QUILTING cotton and please - no fur, smoke or fragrances.
Selvage edges should be trimmed off before cutting for blocks and all seams should be 1/4 inch.
Your finished block should be squared up to be no less than 1/4 inch smaller nor 1/4 inch larger than the stated (unfinished) size for the month.
Blocks need to reach the lotto coordinator no later than the last day of the month.
The winner will be drawn that evening or on the first day of the following month and posted on the forum.
The winner may choose a block and/or colors for a future lotto that will be added to the list. If the winner opts to choose a block, a sample block must be received by the moderator by the end of the month prior to the posting date. For example, if you're choosing the March block, a sample must be received by the end of January. There is usually at least a 3-4 month lead time between winning and the month's pattern posting, so you have lots of time to explore patterns and dream up color combinations!
Coordinator's Address:
Kay Barkdoll
12026 Punch Bowl Rd
Mercersburg, PA 17236
Here is a link that might be useful: Double Spinwheels Pattern