Renovating my old pool and it looks scary!!
Hello all! I am new here and really need your help! I'm in the process of having my pool redone and things just don't seem right. My PB seems to think he's done an excellent job (he's been to my pool for abt 10 mins the entire month). Not sure where to start but here goes.....
1. New concrete coping and partial deck was poured. The coping near the old deck has a nice pitch to it, the coping around the deck he poured is flat. Only a 1/8'' drop from front of coping to end of deck which is about 3 ft.
I told him I wasn't happy with the unevenness and bumps but he claims he told me that it would be wavy.......ahhhh...no he didn't. My old coping was straight, why would I pay to have it replaced unevenly?!
They put kool deck around the coping to mask the ugliness. When they painted it they got paint all over glass tiles. To fix this they scraped it off leaving scratches. As you can see the kool deck/coping is all uneven on tile. When coping forms were taken off the front edge came off with form. They went back and hand patched the rest of it.....sighhh....
2. A new leak under my stairs appeared the day they came to plaster. They wanted to just plaster over the leak. I said NO WAY! Also the area around the jet's looks to be cut way too deep. He was going to plaster over this as well!! Is this correct?!
3. My tanning ledge build looks way off. Can you please give me your opinion on this?
Any advice would be helpful. I have always wanted a pool and finally got one. This is not what thought my summer would be like. :(
Thank you all!!!!
The image added is a before shot.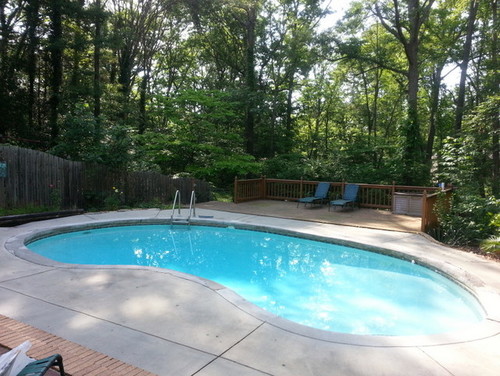 This post was edited by JJSouth on Mon, Jul 21, 14 at 12:13