New build, Houston (Cypress), Tx
Hey all,
Starting a new thread since I've moved from a contemporary design to a lagoon style.
Here's the layout. Couple of minor changes from the below like we're going to outline all of the decking with flagstone
Pool specs:
Custom freeform pool
112' Perimeter ft
38'x24'
Approx. 24,500 gallons
4" deck drain system run to street
Overflow drain tied into drainage system and taken out to street
Automatic fill line with valve
8 return lines
1 cleaner lines
2 main drains
2 skimmers
Hayward 2.7hp total hp Tristar max efficient pool pump
Hayward 2.7hp total hp Tristar max efficient water feature pump
Hayward pool cleaner booster pump
425 sqft Hayward swim clear cartridge filter
Hayward prologic PS-8 with digital wireless remote and in-home docking station
Hayward H series 400,000 BTU heater
Hayward T-cell 9 Salt chlorination system turbo cell
Hayward colorlogic LED lights with preset light show function (2 lights in pool, 1 in spa)
Hayward neverlube valves
Polaris Black Max 280 pool cleaner
Wet edge pearl matrix or satin matrix
8 ton moss rock boulder waterfall with cave with 3 water locations on independent pump
Gunite pool slide with 5 gunite stairs, additional 2.7hp pump, epoxy slide coating. Sealed rock.
1,100 sqft new decking, 1350 sqft stamped overlay over new and existing decking
Dig scheduled for 8/3!! Woohoo! :)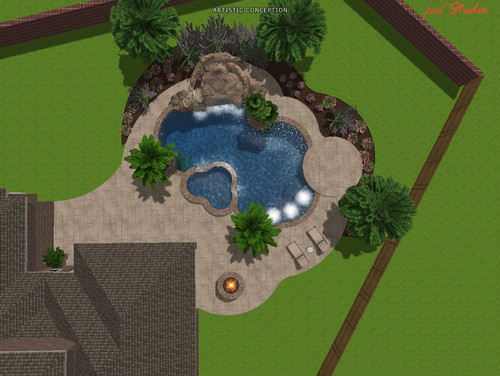 This post was edited by cbink on Mon, Jul 22, 13 at 12:22