Suggestions needed for lighting over island with 8' ceiling
treasuretheday
March 23, 2013
I'm still in the dreaming stages of kitchen renovation, hoping to move to actual planning later this year. My husband threw me a curve when he said that he wanted me to choose lights to replace the 6 cans currently in our kitchen asap.
When we gutted two upstairs bathrooms, we needed to move some plumbing which led to the removal of two of our 6 cans. I've lived with the empty holes for a year was prepared (resigned) to keep them until the kitchen reno. My husband really wants to close up the holes and make any new holes all at once. He does not want to relocate cans now only to have to potentially do it again in another couple of years.
Since I was hoping to put a chandelier or pendants over my island in the future, he'd like me to get something now that would be the same type of fixture. Not that I can't choose something different when we do the kitchen, just ideally something that would take the same box configuration.
My ceiling is only 8' so is it realistic to consider a chandelier or pendants or do I need to stick with something semi-flush?
I'm struggling because I don't know what would work with the kitchen that I have now (can lights were easy, at least) and be pretty close to the same configuration as what I'd likely choose in the future. We don't have UCL now so my perimeter counters are fairly dark, especially with 1/3 of my overhead lighting gone. We'll add UCL in the future but I don't think it's worth the expense to put them in now on my old cabinets. I do use my island for nearly all of my prep so as long as I have good general lighting in the room, that would be sufficient.
Here is my current kitchen, with the missing cans over the stove wall.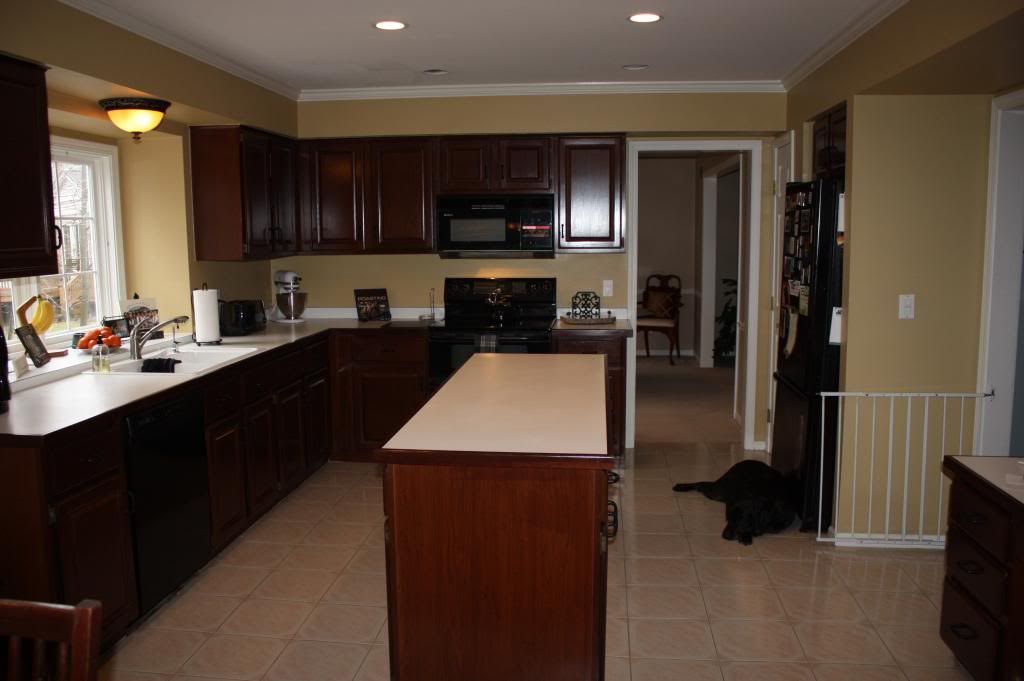 I don't recall who made the chandelier over the kitchen table but I'll need to work with this...
Do you have any suggestions? What would you do?
Thanks so much!