Any Ideas or Tips On This?
dan_the_mailman
February 2, 2012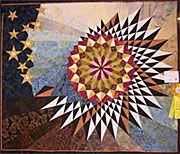 I'd like to make a quilt featuring that black-and-white-and-brown spiral, but can't quite figure out how to make it. Any ideas? Or has anyone ever made a quilt with this in it?
After looking at it for awhile, I'm thinking it may be possible to do as part of a lonestar, but I'm not sure. What can you all come up with?
Dan