French Country/Tuscan Decorating
Me and my boyfriend are 19, moving into a new apartment sometime in August/September. I was thinking of selling the furniture we have now, and starting over. I'm not sure how big our apartment is actually going to be. Or if we can paint. We haven;t found an apartment for sure yet.
I want our house to be really cute. I like the French Country and Tuscan styles of decorating. We don't have a lot of money for it, but I really want to decorate our house. Links and such are appreciated. I'm trying to find semi-cheap furniture and things.
Oh, and I like natural colors. Black, brown, beige, grey, white.. I don't want A TON of color, but maybe a little. Red, maybe?
I guess I want it to be more Tuscan than French Country. But I found these AMAZING pillows that I wanted to use. Was also going to buy a picture of a bird on a clothing line that had clothes pins holding the letters "L U V". Wanted to incorporate that if it would look good.
I like dark brown furniture. And don't want it to be too antique-y, but not really modern. Don't want it to look like grandma's house.. I am only 18.
I also ADORE this living room. Not sure what style it is though.. But would like to incorporate things like that. The actual stuff in that picture is WAY too expensive. But I would like to replicate it if possible..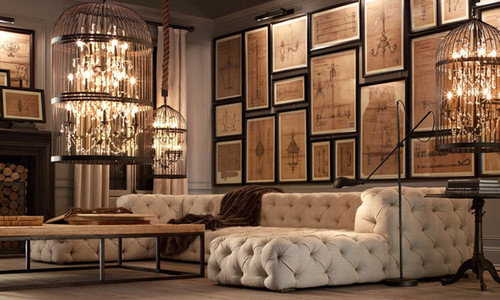 Here is a link that might be useful: PILLOWS