KAW...pizza steel !!
trailrunnerbiker
March 13, 2014
Wow...that is about all I can say...well haha...you KNOW better. I have had it since last year and it sits and waits patiently for me to use it...sigh. Today was the day. I baked sourdough bread this AM ...there is a thread over on cooking forum if you want to travel over and look :) I stirred up the pizza dough late this afternoon on a whim, used the recipe from The Way the Cookie Crumbles Blog. I didn't put in the wine but followed all the other inst. Amazing..perfect crust. I preheated the steel 6" from the top of the oven. 550. for 40 min. I divided the dough in to 3 /12oz pieces and used two and put one in fridge to try tomorrow and see how it does. I had also bought some pizza screens last year and never used them...do you see a trend ???? I stretched the dough...which is amazingly easy to do. I placed it on the screen and topped lightly with sauce and pepperoni and only 6 oz fresh mozz and 4 oz parmesan.
All of this is new territory for me. I usually prebake the crust a few minutes to set it up in order to try and avoid soggy...and I usually over load the fillings. Restraint was my friend tonight . Baked in the oven for 5 min....slid the screen out from under the pizza with my peel and finished it for 3 min. Perfection...I tell you perfection. Number 2 was even more wonderful! And the great thing is that my 7 yr old Miele ovens hold the temp . so the oven was ready for #2 by the time is was topped and ready to put it in. Perfection :) indeed. All of this and I forgot to turn on the broiler to high to superheat the stone...tomorrow :)
Here are some pics. I am so ready to try pizza once a week now and see where this new interest leads me. Trips to the gym will now increase as will the bike miles...LOL !
number 2 in foreground :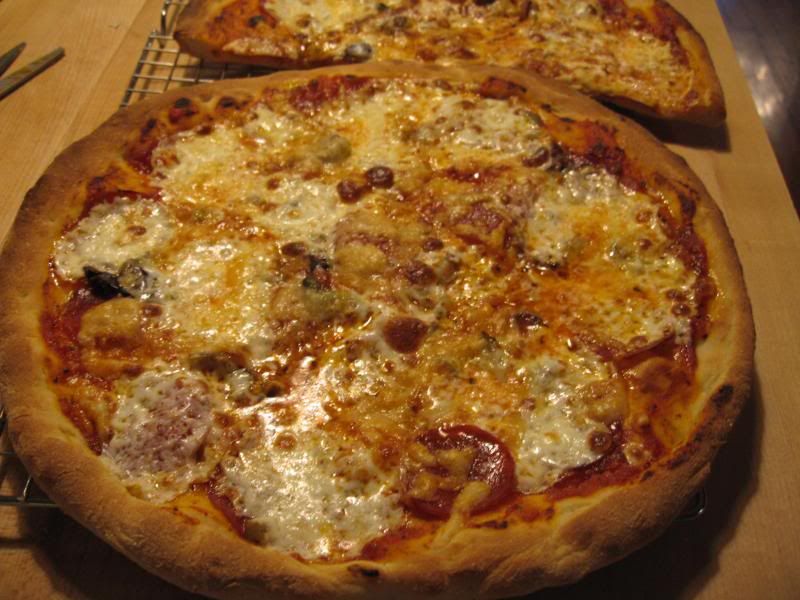 number 1 :