Rocky's Debut
Today Rocky left the guest room for the first time and met the other cats. He was great.....not the slightest bit aggressive, he was simply interested in the other three. They, on the other hand, did a lot of hissing and growling. Peachy, also an orange cat, was the most assertive. But no fights ensued.
I was without an Internet connection since yesterday afternoon, when a tree came down during a violent t-storm. When the telephone company man came to work on my DSL I stashed Rocky back in the guest room. He didn't like that one bit, so I guess he's out for good. I hope we have a quiet night.
Which brings me to his one annoying characteristic: He is SO NOISY! It's his Siamese lineage, I guess. He squeaks and squawks so much. By the end of the day I've had it. I guess I better get used to it, though, because I don't think he's going to stop. If anything, he'll get louder as he matures.
I wonder if this is how he ended up abandoned. He's so sweet otherwise, but demanding in the extreme.
Here's Peachy on the left, asking me why I brought this interloper into the house. :-)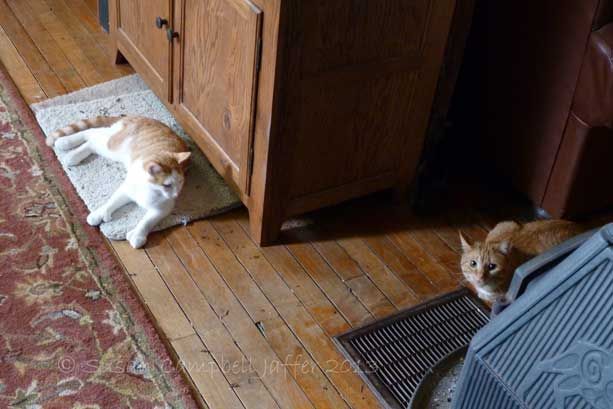 He's lying on the mat I use for firewood. His blue eye is in shadow.