Please critique this lighting plan
Here is the planned first floor house addition, back view. The addition is 12 feet deep and 30 feet wide, not counting the screened porch to the right. You don't need to read the writing, this is for a general overview.
Here is the bare bones floor plan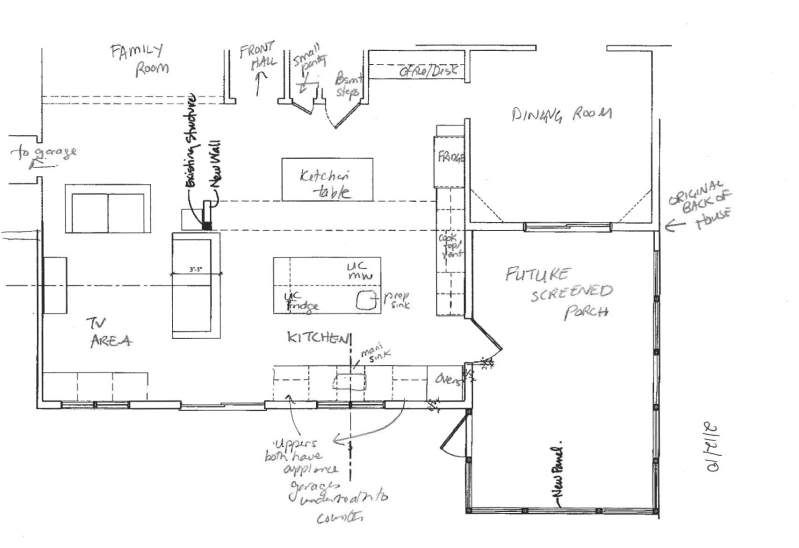 Here is the lighting and electrical plan for the kitchen (i'm not including the screened porch in this discussion). This is from my architect. I tried to shade in the cabinets to make it more legible. I'd like to have critique on the banks of lights and the switching design. I have more specific questions to follow. I know the kitchen table should be moved more towards the island. BTW the only island seating is at the end by the sofa.
$- light switches
-3 pendants over kitchen island
-others are potlights
-under counter lighting in office area on on cooktop run. Not on sink run since there are appliance garages under the two upper cabinets there.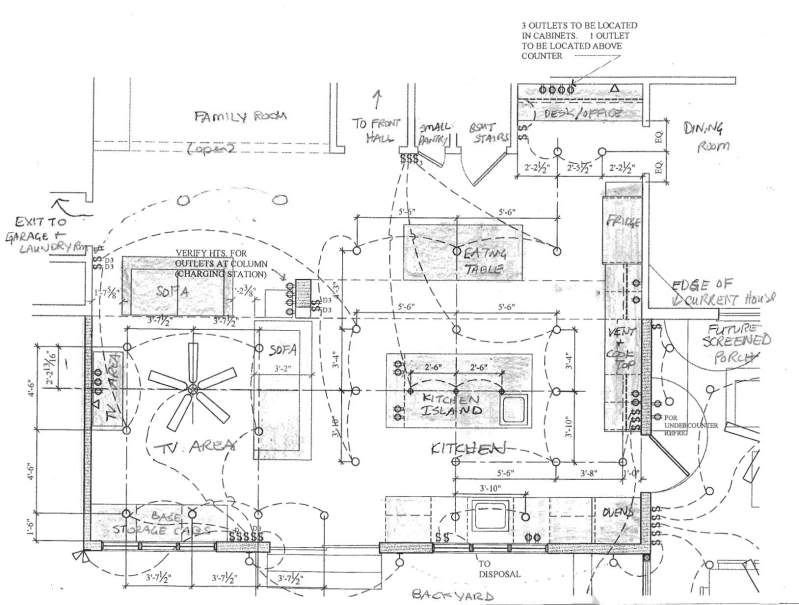 MAJOR QUESTIONS
1. I thought I saw some advice here to put the potlights on the edge of the counters. This plan seems to be lighting the aisles. Which is better?
2. I would like to add two skylights, preferably over the kitchen area, but don't know the best place for it.
3. I'm torn between 3 pendants over the island, or a ceiling fan. It does get hot in the summer. I suggested putting one big ceiing fan between the sofa and kitchen island, but my architect said that looked out of place. She thought the ceiling fan should be in the center of a definted area.
4. Should the under counter lights also be switched on the wall beside the front wall?
Here are some things I have already thought of:
1. Should connect all 3 backyard lights and switch them from both the patio sliders and the screened porch exit.
2. She does not have the outlets for appliances on here, I think by intent.
2. I need double outlets inside both appliance garages.
4. Ceiling fan should be switched from a more central location than the back wall.
5. Disposal will be an air switch on the counter, not a wall switch.
I appreciate and comments and suggestions! I will cross post in lighting linking to this thread.
thanks in advance.